Thursday, June 19, 2014
Bradley Named SU 2014 Employee of the Year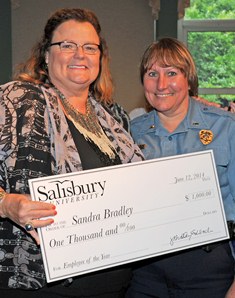 SALISBURY, MD---Sandra Bradley, police administrative commander and lieutenant, recently was named Salisbury University's 2014 Employee of the Year.
Announced during SU's annual Employee Appreciation Day, the winner receives a $1,000 cash prize.
Bradley, one of SU's 12 SU Employees of the Month for the 2014 fiscal year, was nominated in May for her leadership and contributions to the SU Police Department.
University Police Chief Edwin Lashley nominated Bradley, praising her "relentless leadership," which was "instrumental to the development of 189 professional standards set forth by the Commission on Accreditation for Law Enforcement Agencies (CALEA). As a result, SU has joined a relatively select number of police agencies that have earned accreditation status."
SU was accredited by the agency in November.
Bradley's persistence and dedication has had a substantial impact on the University, according to her nominator. Accreditation has helped the department "strengthen crime prevention and control capabilities, formalize essential management procedures, establish fair and nondiscriminatory personnel practices, improve service delivery, solidify interagency cooperation and coordination, and increase community and staff confidence in the agency," said Lashley.
He added that Bradley's efforts went beyond the call of duty and that the accreditation approval was a "vital and historic achievement [and] will greatly benefit SU for years to come."
For more information call 410-543-6030 or visit the SU website at www.salisbury.edu