Friday, May 2, 2014
Guerrieri Center Art Space Presents Works by Madison Stanton May 2-June 2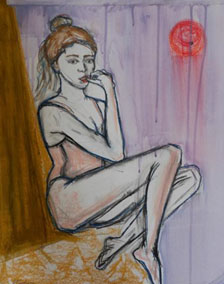 SALISBURY, MD---The Guerrieri University Center Art Space hosts the exhibit "Ever Upward" by Salisbury University alumnus Madison Stanton from May 2-June 2.

Born in Royal Oak, MI, Stanton lived in Birmingham, MI, before coming to Maryland in the early 2000s. She began painting at age 16 and has continued to create art regularly since earning her B.F.A. from SU last December.



"It's easy to paint pretty, decorative things, but I'm not interested in doing that," she said. "I'm interested in depicting emotions, being affected, being vulnerable, being in denial and all aspects of the human condition. I don't believe in normalcy. I've always found the strange and quirky qualities in people and the oddities in life to be far more interesting.

"The act of painting is an outlet for me; there is a hunger and a drive in me to do it. I can put into my art what I can't describe in words. I find that in my process, the less planning involved, the better the outcome. I prefer a direct application with no filter, and I do not plan for very long before starting; however, I always have a color palette in mind.

"Color is a very important factor in my work, and music is essential to my process. I'm essentially bringing to life what I feel or have felt at one time through the people I portray. For me, art happens twice: first in the act of creating the work itself and again in the moment it impacts the viewer. It's a never-ending cycle; a powerful process I take pride in."

The Art Space is located in the Guerrieri Center's second-floor concourse. Admission is free and the public is invited. For more information about Stanton, visit her website at https://www.behance.net/madisonstantonart. For details about the exhibit, call 410-543-6247 or visit the Art Space website at http://www.salisbury.edu/guc/artspace.