Thursday, April 17, 2014
Eastern Shore Regional GIS Cooperative Marks Decade of Service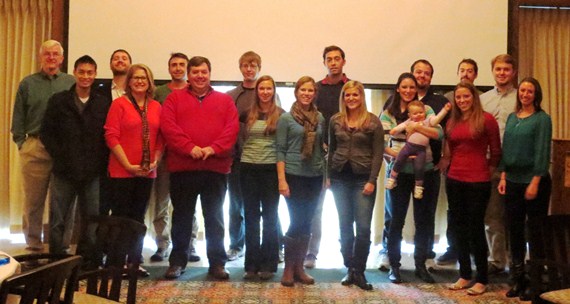 SALISBURY, MD---The Eastern Shore Regional GIS Cooperative (ESRGC) at Salisbury University has been on the map for 10 years.

When it started in early 2004, the ESRGC's goal was to improve Geographic Information System (GIS) technology capabilities on the Mid- and Lower Eastern Shore, especially for county and municipal governments.

Over the past decade, the ESRGC has worked on 135 projects, totaling more than $5.6 million in grants and contracts.

"This is a milestone," said Dr. Michael Scott, director. "We simply could not have come this far and provided service to so many without the unwavering support of SU President Janet Dudley-Eshbach and other administrators and faculty."

Over the decade, the ESRGC has mapped subjects ranging from threatened bird sanctuaries and Chesapeake Bay critical areas, to high-speed Internet availability, to trends in state unemployment and crime. The team also has explored historical maps and nautical charts; flooding vulnerability; public transportation systems,; the infrastructure of municipal water, sewer and storm water systems; and more.

In addition, staff have done countless pro-bono projects for individuals, non-profits, schools, governments and businesses.

The ESRGC is a joint effort between the Mid-Shore Regional Council, the Tri-County Council of the Lower Eastern Shore of Maryland and SU. This enables the ESRGC to provide its services, including GIS implementation advice and training, technical support, equipment loans, data collection, data analysis and cartographic services, at no or low cost to local governments.

The ESRGC has grown to 14 current full-time staff members and, Scott added, nearly all are SU alumni and all are Marylanders. The ESRGC also has employed and trained nearly 100 student interns and graduate assistants over the last decade.

"All of those students have worked on projects that help improve decision-making to benefit citizens, and many have continued on to work in the GIS/mapping industry here on Delmarva or in Maryland," Scott said.

For more information call 410-543-6030 or visit the SU website at www.salisbury.edu.