Wednesday, March 26, 2014
Gallery 303 Presents '$orry Mom' Exhibit March 31-April 4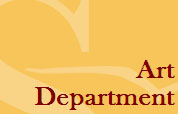 SALISBURY, MD---Can art majors make a living with their degrees? Of course … but some parents initially are unconvinced.

Salisbury University art students deliver an apology, of sorts, to their parents for that uncertainty in the photographic exhibit "$orry Mom" March 31-April 11 at Gallery 303, 303 W. College Ave. A reception is 5-7 p.m. Friday, April 4.

The exhibit represents a variety of processes, including traditional, alternate and contemporary. Many works on display will be one of a kind. In recognition of their parents' concerns, the student artists present a family member with an original piece of artwork for each photo sold during the exhibit.

In acknowledgement of the financial investment many parents have made in their children's art education, prices represent the actual cost of having created the photos, including tuition and materials.

Gallery hours are by appointment. Admission is free and the public is invited. For more information call 410-543-6270 or visit the SU website at www.salisbury.edu.