Tuesday, November 26, 2013
SU International Students Meet Salisbury's Mayor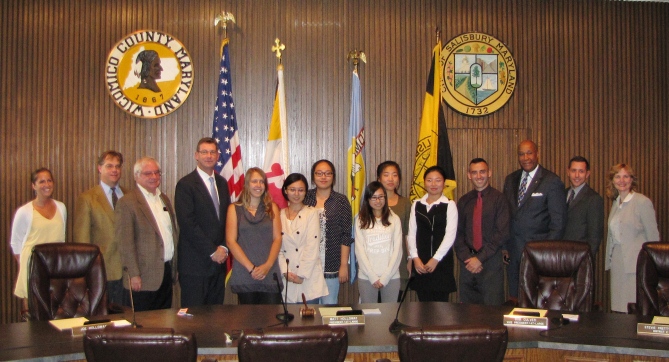 SALISBURY, MD---International students attending Salisbury University met Salisbury Mayor Jim Ireton this semester to celebrate global connections within the community.
Five students from China and one from Germany attended the event, hosted by the Sister Cities Association of Salisbury/Wicomico County and the Mayor's Office.
Ireton shared facts about the city and discussed his role as mayor. He asked the students about their lives and experiences in America. He also invited their questions, responding to such topics as China, the government shutdown and the American educational system.

"We want the international students at SU to learn a little bit about Salisbury as a city and how we run our government," said Dr. George Whitehead, association chair and SU psychology professor. "The mayor has been helpful and the students have enjoyed learning."

The Sister Cities Association of Salisbury/Wicomico County is partnered with the cities of Salisbury, England; Tartu, Estonia; and Dalian, China. A member of Sister Cities International, its mission is to foster international exchanges that create lasting friendships through cultural understanding, economic development and education.

"[The mayor] is funny and also intelligent," said Yujie Tian, one of the Chinese students, who is majoring in Teaching English to Speakers of Other Languages (TESOL). "I think I can learn a lot of things from his speech."

The students received Sister Cities bookmarks and "'bury" bumper stickers, and took photos in the City Council chamber.

"I love the environment here; it's very classic and beautiful," Tian said, adding "the people are friendly and very nice."

For more information, call 410-543-6030 or visit the SU website at www.salisbury.edu.