Wednesday, November 6, 2013
SU's Perdue School Honors Burbage with Leadership Award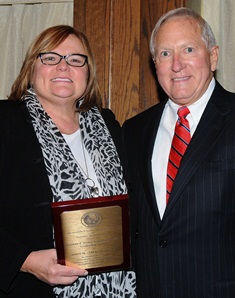 SU President Janet Dudley-Eshbach with Perdue Leadership Award winner Jack Burbage

SALISBURY, MD---International business leader and philanthropist Richard Branson once said, "I don't think of work as work and play as play. It's all living."

The quote is a favorite of local real estate developer Jack Burbage, who uses it as a guiding philosophy. For more than four decades, Burbage and his family have helped transform the skyline of the Delmarva Peninsula.

Salisbury University's Franklin P. Perdue School of Business recently honored Burbage for his years of vision and community giving, presenting him with the 2013 Perdue Leadership Award.

Raised in Berlin, MD, Burbage grew up working in his father's clothing store. After graduating from Stephen Decatur High School, attending William and Mary College and graduating Cum Laude from Wesley College, he expanded the shop to include 12 stores throughout the region.

In 1982, he began investing in real estate in Bethany Beach, DE. More than 30 years later, he continues to be a construction leader there, preparing to build a new Marriott Residence Inn on Bethany's boardwalk.

His success, however is not limited to just one town. As the CEO of Blue Water Development Co. and Burbage Properties, he purchased a large waterfront campground in Ocean City, MD, and, with his sons John III and Todd, transformed it into the five-star Castaways resort campground.

In 1993, with his sister, Barbara, and business partner Ray Nichols, he purchased the Community of Mystic Harbour. This transaction served as a springboard to several subdivisions in West Ocean City, MD, including Deer Pointe, Whispering Woods and Ocean Reef. Most recently, he completed construction of a new Marriott Fairfield Hotel in Chincoteague, VA.

Eleven years ago, he established the Jack Burbage Foundation with the goal of bettering local communities through scholarships and grants. He has served on Atlantic General Hospital's board of trustees for six years, chairing it since 2011. He also sits on the board of Diakonia, a homeless shelter in West Ocean City, and has been a member of the Taylor Bank Board of Directors for the past 26 years.

Burbage lives in West Ocean City with his long-time companion, Virginia Pappas. They have four grandchildren. In his spare time, Burbage enjoys flying (he has a pilot's license), and hunting and fishing with his sons.

The name of each year's Perdue Leadership Award winner is engraved on a plaque in the Perdue School. Each honoree also receives a commemorative award.

For more information call 410-543-6030 or visit the SU website at www.salisbury.edu.