Tuesday, October 22, 2013
SU Highlights Environmental Initiatives on Campus Sustainability Day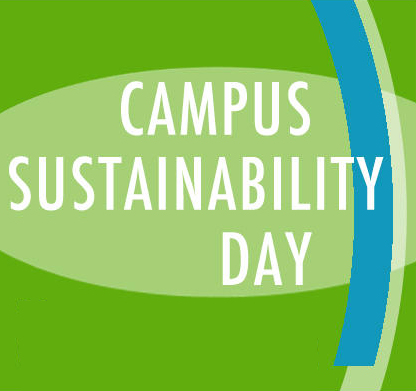 SALISBURY, MD---For the past four years, The Princeton Review has named Salisbury University among the nation's most environmentally responsible campuses in its annual Guide to Green Colleges, first published in 2010.

It's a distinction Wayne Shelton, SU director of campus sustainability and environmental safety, takes seriously. As SU joins other colleges and universities nationwide in celebrating National Campus Sustainability Day on Wednesday, October 23, he recounted some of the most recent initiatives that have helped Salisbury maintain that title.

One of the most visible this semester has been the addition of four bicycle repair stations on campus, a direct response to suggestions made through the University's sustainability website. Located near Maggs Physical Activities Center; and near bike storage areas for Chester, Choptank and Manokin residence halls and Sea Gull Square, the stations include basic tools, an air pump and a QR code users may scan with their smart phones to access bike repair tips.

Amenities like bike storage areas have helped SU achieve U.S. Green Building Council LEED Gold or Silver certifications for seven new or renovated buildings on campus. The University has made LEED certification a priority in plans for all new buildings since 2007.

That year, President Janet Dudley-Eshbach joined leaders from more than 400 other colleges and universities in signing the American College and University Presidents' Climate Commitment, pledging to move SU toward climate neutrality, with no net greenhouse gas emissions.

Since then, SU has focused not only on making the campus more environmentally friendly, but encouraging students to follow that lead, as well. Many have risen to the challenge. SU's Student Government Association (SGA), for example, hosts annual Earth Day and Recycle Madness events, the latter of which pits student organizations against one another to collect the most recyclables.

The SGA also led the charge to install water bottle filling stations throughout campus. This makes it easier for students — and others — to use refillable water bottles instead of relying on water bottled in disposable containers for hydration on the go.

In the classroom, students in SU's Environmental Studies Department learn from faculty such as award-winning author Tom Horton, and Drs. Mike Lewis and Jill Caviglia-Harris, who, for the second consecutive year, have earned the University System of Maryland's prestigious $80,000 Wilson H. Elkins Professorship for projects to expand the department's student research opportunities.

They also carry what they know into the field. Environmental studies majors have interned for organizations and locales including Assateague Island National Seashore, Patuxent River State Park and The Nature Conservancy. Since 2010, five have received prestigious U.S. Environmental Protection Agency fellowships.

Faculty across campus also have demonstrated their commitment to the environment. A CrossTalk climate change education forum, for example, engages interdisciplinary faculty in lunchtime discussions twice each month, focused on developing ideas for including sustainability topics into courses and the broader curriculum.

Of course, sustainability extends beyond the classroom, as well. Other campuswide environmental measures include everything from information technology policies — most of SU's printers are defaulted to double-sided printing to reduce paper consumption — to a partnership with Delaware-based Blue Hen Organics to compost food and paper waste from SU's Commons dining hall.

The waste is turned into pellets, which are used to add nutrients to plants at area farms and agricultural operations including SU's own greenhouses. This allows the campus to divert roughly one-third of its annual waste production from local landfills each year. Thanks in large part to this program, more than 50 percent of SU's waste was sent to recycling outlets in 2012.

This marked a milestone in SU's recycling program, which began on a small scale, with tin and aluminum cans from the campus' dining hall, in 1990. In contrast, last year SU recycled nearly 740 tons of glass, wood, metal, paper, food waste, electronics, appliances, batteries, tires, grease, carpet, fluorescent light tubes and yard waste.

Much of SU's non-recyclable trash also is being put to good use. Earlier this year, Ingenco, a regional energy company, partnered with Collegiate Clean Energy to sign an agreement with Wicomico County to produce renewable power using methane gas from Salisbury's Newland Park Landfill — where SU disposes its non-recyclable material.

To offset the carbon emissions from the decomposition of this trash, SU purchased 8,000 renewable energy credits produced at the landfill this year. The estimated landfill gas being destroyed to make those credits is the environmental equivalent of the annual greenhouse gas emissions from 7,552 passenger vehicles.

These are just a few examples, Shelton said: "SU's commitment to the environment continues long beyond Campus Sustainability Day."

For more information call 410-543-6030 or visit the SU sustainability website at www.salisbury.edu/sustain.