Friday, September 6, 2013
Perdue School Faculty Present at Academy of Management Meeting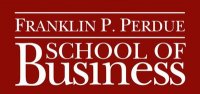 SALISBURY, MD---Six management faculty members from Salisbury University's Franklin P. Perdue School of Business recently presented at the Academy of Management's annual meeting in Orlando, FL.

Dr. Frank Shipper, professor of management, chaired the program "Shared Entrepreneurship: An Alternative Capitalistic Model." Session speakers from the department included Drs. Stephen Adams, Richard Hoffman, Olivier Roche, Thomas Calo and Associate Dean Christy Weer.

Other presenters included faculty from Rutgers and Mondragon universities and the University of Massachusetts, Amherst, as well as Foundation for Enterprise (FED) President Mary Ann Beyster and former Exxon executive Bill Nobles.

Shipper also was a panelist for the presentation "We the Owners: Using Film to Explore Shared Ownership, Entrepreneurship and Human-Centric Models." Produced by the FED, the film explores alternative business models and strategies for thriving in the global economy of the 21st century.

Weer was a co-author of a paper entitled, "An Exploratory Study of the Relationship between Kaleidoscope Career Types and Work-life Balance." This paper was presented as part of a session on work and family.

Management faculty members in the Perdue School emphasized the importance of employee-owned businesses to economic growth and corporate success. Approximately 12,000 such businesses exist in the United States, with some 200 in Maryland and an estimated 25 on the Delmarva Peninsula.

Articles and case studies on the topic by Perdue School faculty members are used by more than 700 U.S. universities and schools in more than 120 additional countries, according to Shipper. The most recent request came from the Pontificia Universidad Católica Argentina, ranked by U.S. News & World Report as one of the best universities in Latin America.

The Indian Institute of Management, Massachusetts Institute of Technology, and the University of New Hampshire also have requested copies of case studies for classroom use. At the University of New Hampshire, the cases have been used repeatedly in its Executive MBA program.

For more information call 410-543-6030 or visit the SU website at www.salisbury.edu.