Friday, July 12, 2013
Social Work Expands Behavioral Health Integration Program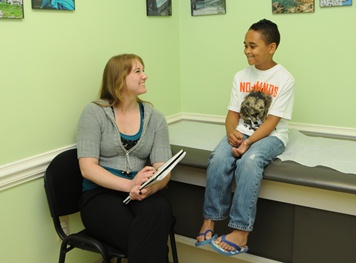 SALISBURY, MD---When Jennifer King suggested her young patient try to calm hyperactivity by doing her favorite thing (singing) in her head, the positive results were immediate.

For the recent Salisbury University graduate, providing simple therapies, such as this, was one of the most rewarding aspects of her year-long internship at a local pediatric office. Her placement was part of a new initiative led by SU's Social Work Department to better help children in the community with behavioral and mental health issues.

King (pictured) was one of four M.S.W. students from SU who worked with area pediatricians over the past academic year. This fall, the program expands to eight interns in Wicomico, Somerset and Talbot counties. Their role: work on-site to provide free screenings and brief intervention, coordinate care management referrals, and offer consultations and support for primary care providers.

"Many parents turn to their already busy pediatricians when kids are having trouble in school or other issues," King explained. "While doctors and nurses are experts in the medical field, they can't always handle behavioral or mental health issues. That's where we come in."

The initial group of SU interns had 269 contacts with families and children. The department's co-location model is part of a larger Behavioral Health Integration in Pediatric Primary Care (B-HIPP) program, funded by the Maryland Department of Health and Mental Hygiene and Maryland State Department of Education.

"As healthcare reform continues to move forward, additional social workers will be needed to work in integrated settings, and SU and the B-HIPP Salisbury Program will continue to be a frontrunner in producing trained M.S.W. graduates," said Amy Habeger, project coordinator and SU Social Work faculty.

The University of Maryland School of Medicine and Department of Psychiatry and the Johns Hopkins University School of Public Health also are partners in the project.

King, of Westminster, MD, presented with Habeger at the Annual Regional Systems of Care Training Institute (SOCTI) Conference, while Marisa Cook, of Taneytown, MD, joined Habeger at the Maryland Annual Child and Adolescent Mental Health Conference. Both discussed the B-HIPP initiative and their internship experiences.

The SU team also planned and hosted two resource fairs, with some 64 agencies represented, to build community partnerships on the Lower and Mid-Shore. In addition, they are helping to offer free B-HIPP trainings statewide and advocating for early childhood mental health within pediatric offices.

"Integration in primary care settings is especially important in rural locales such as the Eastern Shore because of shortages in providers and child psychiatrists," Habeger said. "Such connections help with early intervention and education efforts, and reducing stigmas about mental illnesses. Having support from our interns also encourages collaboration and communication between pediatricians and mental health specialists, and increases routine screenings and access to community mental health services."

The 2013-14 interns include Katya Andrews of Fruitland and Toni Huffman of Pittsville, as well as Brittney Faulk of Bowie, MD; Kirstin Inglis of Westminster, MD; Abbey Keppel of Millersville, MD; Kirstie McMurray of Greencastle, PA; Carol Elizabeth Miller of Centreville, MD; and Amber Wallace of Denton, MD.

For more information call 410-543-6030 or visit the SU Web site at www.salisbury.edu.