Thursday, July 11, 2013
Kennedy Becomes SU's Ninth 'Artist of the Eastern Shore'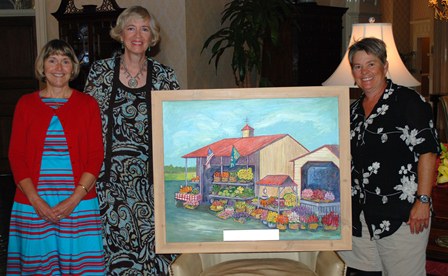 From left: Dr. Amy Stephens Meekins, Deborah Coffin Kennedy and Dr. Carol Wood.

SALISBURY, MD---Cambridge, MD, artist Deborah Coffin Kennedy officially became an "Artist of the Eastern Shore" when Dr. Carol Wood, associate dean of the Seidel School of Education and Professional Studies at Salisbury University, recently accepted her painting as the ninth addition to the Artists of the Eastern Shore Collection established by Dr. Amy Stephens Meekins and family.

The collection resides in the Teacher Education and Technology Center (TETC) and includes works by W. Robert Tolley, Beebe M. Winterbottom, Paul Lockhart, Myrna C. McGrath, Patrick Henry, Sarah Kagan, Lynne Lockhart and Janet Taylor Melfa Baker. Artists of the Eastern Shore provides a legacy of artistic interpretations of life on the Eastern Shore of Maryland and features artists who live on the Shore and whose artwork highlights some element of regional life.

The ninth gift is Kennedy's original painting "Shore Bounty." In keeping with the collection's focus on local traditions, "Shore Bounty" pays homage to the familiar byway sight of the roadside produce stand.

"Kennedy's realistic rendering of this facet of Eastern Shore heritage is a perfect fit for the collection, as is her interest in familiar scenes from life on the Shore," said Meekins. "The vibrant colors of the various fruits, vegetables and flowers invite the viewer to take a closer look at the many examples of Shore bounty."

Kennedy earned her B.F.A. in graphics and painting from Miami University in Oxford, OH. After graduating, she studied at the Academia del Belle Artes in Florence, Italy, for 15 months. She also took courses in ceramics at the Corcoran Art School in Washington, D.C., and in etching and woodcuts at the University of Rhode Island. In addition to her painting, she has worked as a biological illustrator with the Smithsonian Oceanographic Sorting Center, Walter Reed Army Medical Center, and a number of marine laboratories in North Carolina, Maryland, New Zealand and Canada.

The artist is versatile in her choice of media, as she is accomplished in oils, watercolor, line drawing, mosaic, ceramics, woodcuts, collage and various crafts. She has painted murals for Sunny Day Nursery School, the YMCA and St. Clair Elementary School in Dorchester County. As a member of the Wednesday Morning Artists group, she worked on the Cannery Way Mural in downtown Cambridge, painting the large figures and doing some of the mosaic work.

Kennedy has won a number of awards, including the Purchase Prize (1979) and the Judges' Choice and Best Professional Artist Awards (1992) at the Dorchester Educators' Show in Cambridge. At the Academy Art Museum of Easton, she won a First Prize in 1980, a Lee Laurie Award in 1981 and a Juror's Choice Award in 2005 in annual members' shows. At the Dorchester Center for the Arts' members' shows, she won an award for Best Work by a County Artist (1998) and a Best in Show (2012). Her work hangs in several galleries and private collections.

Teaching art is another area of interest for Kennedy, as she finds it rewarding to encourage others to develop their own way of seeing and expressing themselves. No stranger to SU, she served as an instructor for the "Methods and Materials for Teaching Elementary Art" class for nine semesters. She also was an art instructor for Dorchester County Public Schools and the Dorchester Center for the Arts. She is a member of the Dorchester Center for the Arts, the Academy Art Museum in Easton, the Working Artists' Forum, and Wednesday Morning Artists.

Asked what inspires and motivates her, Kennedy responded, "I am inspired by nature, interesting regional architecture, bodies of water and a certain slant of light — dramatic lighting and the play of light on objects and surfaces. Elements of art include line, color and form. For example, lines of branches in winter can inspire me. To keep motivated, when I travel I keep a sketchbook. I also keep motivated by continuing to go to museums and by looking at art in all forms."

In addition to artistically enhancing the TETC, the collection provides students with a unique artistic glimpse of the landscapes that surround them as they live and pursue their academic endeavors on the Eastern Shore. The Meekins' gift will culminate this fall when the final piece of artwork is scheduled to be presented.

The 10th artist to be featured in the collection will be Alane Ortega of Quarter Creek in Deal Island. Her artwork will feature a sailboat regatta, uniquely created via mosaics using tiles from Caruthers Hall, a building that once housed the campus elementary school. Ortega is a mosaic artist who makes small functional accessories and decorative two-dimensional wall art. Her creations often are familiar shore images.

Artists work with University representatives to determine an artistic rendering that meets the goals of the collection and best exemplifies the work of the artist. They are paid an honorarium for their work, funded by the Meekins family. When completed this fall, the collection will feature 10 artists of the Eastern Shore whose work exemplifies the beauty this area has to offer and who represent the artistic element of Shore life.

For more information call 410-543-6030 or visit the SU Web site at www.salisbury.edu.