Wednesday, July 10, 2013
Guerrieri Art Space Presents 'A Fading Way of Life' Through Thursday, August 15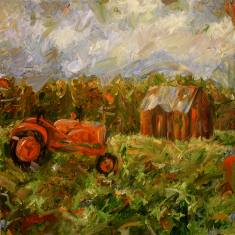 SALISBURY, MD---The Guerrieri University Center Art Space showcases the exhibit "Fading Way of Life" by Melanie Lyons through Thursday, August 15.
Having grown up on a farm, the Easton, MD, native draws inspiration for her painting, drawing and photography from experiences with nature. At SU, she is pursuing her Bachelor of Fine Arts with a concentration in painting.
"The aim of art is to represent not the outward appearance of things, but their inward significance," she said, quoting Aristotle. "I try to show the inward significance of these moments using line, texture and expressive marks in my artwork.
"I cannot conceive of anything being more varied, rich and handsome than the planet Earth. My art is centered on this passion. 'Fading Way of Life' represents the unique experiences that one can only comprehend from living on the Eastern Shore," she added.
The Art Space is located in the Guerrieri Center's second-floor concourse. Admission is free and the public is invited. For more information call 410-543-6247 or visit the Art Space Web site at http://www.salisbury.edu/guc/artspace.