Thursday, June 20, 2013
Flores Named 2013 SU Employee of the Year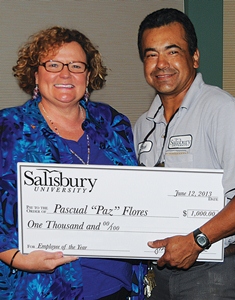 SALISBURY, MD---Pascual "Paz" Flores, plumbing specialist in Physical Plant, is Salisbury University's 2013 Employee of the Year.

Announced during SU's annual Employee Appreciation Day, the winner receives a $1,000 cash prize.

Flores, one of SU's 12 SU Employees of the Month for the past fiscal year, was nominated for his efficiency, expediency and teamwork.

When Flores began his career with SU in 2002, he was the only plumber on campus, and was assisted by an apprentice and student workers. Today, he is again the only plumber on campus and has assumed the lead responsibility for resolving plumbing issues. As an example, his nominator cited a vandalized indoor fire sprinkler head he was called on to repair. After fixing the sprinkler head, he went on to research and fix a secondary concern, which was determined to have been a safety issue.

His nominator also praised his attributes as a team player who "welcomes and works with you to accomplish whatever task is at hand." That goes beyond plumbing — he also has assisted with snow removal on campus.

In addition, Flores is committed to sustainability. He took the lead on researching options and implementing new water bottle stations around SU. The hydration stations offer easy access for filling reusable water bottles and have helped curb the use of thousands of disposable plastic bottles.

In a note of support, Physical Plant Director Kevin Mann said, "Overall, Paz is what you want in an employee. He is professional, dependable, will do what is necessary to complete the task properly, and go beyond when necessary, and always has a positive attitude. I'm proud to say that he works in Physical Plant."

For more information call 410-543-6030 or visit the SU Web site at www.salisbury.edu.