Tuesday, April 16, 2013
Annual SU Student Research Conference Scheduled Friday, April 26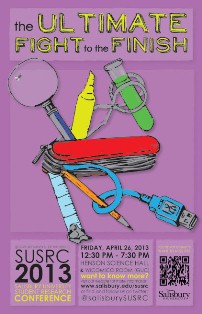 SALISBURY, MD---Salisbury University students share their research on topics ranging from the sciences, to the liberal arts, to business, to education during the 12th SU Student Research Conference (SUSRC) Friday, April 26.

Presentations are 12:30-7:30 p.m. in Henson Science Hall and the Wicomico Room of the Guerrieri University Center. A full schedule of topics, times and locations will be available on the conference Web site, www.salisbury.edu/susrc, as the date nears. The event showcases and celebrates student accomplishments.

Admission is free and the public is invited. A conference Twitter feed is available at @salisburySUSRC. For more information call 410-543-6030 or visit the SU Web site at www.salisbury.edu.