Tuesday, April 9, 2013
SU Students, Faculty Showcase Talents at Salisbury Festival Apr. 27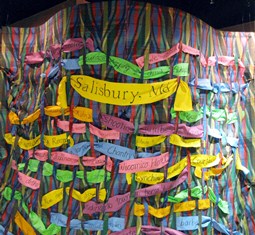 SALISBURY, MD---Salisbury University students and faculty showcase their talents during the Salisbury Area Chamber of Commerce's 31st annual Salisbury Festival in downtown Salisbury – and invite others to join them!
SU is spotlighted during several performances Saturday, April 27, at Arts on the Plaza. At 11 a.m., music students directed by Dr. William Folger, chair of SU's Music Department, and John Wesley Wright, music faculty, present selections from Mozart's Die Zauberflöte/The Magic Flute and Lerner and Loewe's Camelot at Flag Plaza. At noon, theatre students under the direction of Tom Anderson perform a puppet-based production of Rudyard Kipling's Just So Stories at the Garden at Parker Place.
The Folk Heroes, featuring Dr. Mike O'Loughlin of SU's Political Science Department, as well as Robin Cockey, Dr. Charles Stegman and Mickey Justice, performs a mix of Irish and other music from noon-2 p.m. at Flag Plaza. Zen Monkeys, featuring Suzanna Mallow, adjunct professor of communication arts, follows from 2-4 p.m.
Throughout the day, spectators are invited to participate in two special arts events. "Memories of Downtown" is an interactive multimedia installation, created by SU Art Department faculty Susan Holt, based on the testimonies of local residents recalling the downtown area's vibrant past.
As part of the exhibit, a large fabric sculpture will hang in front of the historical Wicomico County Courthouse, incorporating phrases from the memories of local residents transcribed onto long strips of colored fabric woven into the sculpture. The installation grows with new memories each time it is displayed.
Across the street, at the corner of North Division and East Main streets, projections will show video of local residents reminiscing about the downtown area, as well as photos of the district from the 1940s through the 1970s. Volunteers will be on hand to assist those wishing to contribute their memories for future installations.
Other artists go brush-to-brush to compete for cash and other prizes during Art War, a new addition to this year's festival, sponsored by SU Art Galleries. Student, amateur and professional artists have five hours, starting at 10 a.m., to create a piece live in front of festival-goers. Those attending the festival will vote on which work they like best. Winners will be announced at 4 p.m.
Admission to the festival is free and the public is invited. Arts on the Plaza is a project of the Salisbury Arts & Entertainment District, funded in part by a grant from the Eastern Shore Heritage Council.
For more information, including a full schedule of events, visit www.salisburyfestival.com.