Tuesday, March 12, 2013
Melstrom, Ransom Inaugurate Environmental Studies Faculty Colloquium Wednesday, March 13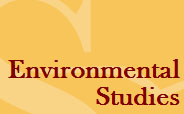 SALISBURY, MD---Drs. Max Melstrom and Tami Ransom discuss "Ecological and Economic Implications of Invasive Species: Earthworms!" during Salisbury University's inaugural Environmental Studies Faculty Colloquium Wednesday, March 13.

Their presentation is 7 p.m. in Henson Science Hall Room 103.

An assistant professor in SU's Environmental Studies Department, Ransom earned her Ph.D. from the University of Virginia. A community ecologist with a special interest in the interactions of invasive species, she has studied the effects of invasive earthworms on native salamanders.

A resource economist, Melstrom is an assistant professor in SU's Environmental Studies and Economics and Finance departments. He has studied non-market valuation and wildlife management, earning his Ph.D. in economics from Michigan State University in 2012.

Sponsored by the Environmental Studies Department, admission to their talk is free and the public is invited. For more information call 410-543-6030 or visit the SU Web site at www.salisbury.edu.