Thursday, February 21, 2013
Delegate Bohanan Named SU's 2013 Hargreaves Fellow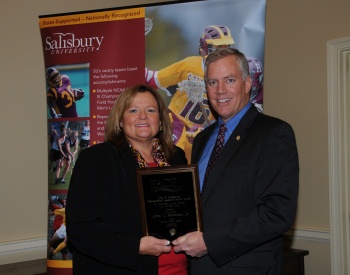 SALISBURY, MD---Maryland Delegate John Bohanan Jr. is Salisbury University's 2013 John R. Hargreaves Distinguished Legislative Fellow.

Created by SU's Institute for Public Affairs and Civic Engagement (PACE) to recognize outstanding public service, the award was presented by SU President Janet Dudley-Eshbach in a ceremony at the Lowe House Office Building in Annapolis.

"Delegate John Bohanan Jr. is one of Maryland's hardest-working legislators," Dudley-Eshbach said. "Through his leadership of the Bohanan Commission and his committee work, he is uniquely positioned as a steward for postsecondary education in the State. He understands that economic development requires a healthy and vibrant higher education system. His collaboration and guidance have helped keep tuition affordable and higher education funding intact. A true visionary, he is an excellent role model for our students as they pursue careers in public service."

A member of the House of Delegates since 1999, Bohanan represents District 29B in St. Mary's County. A member of the Appropriations Committee since 2003, he chairs its Education and Economic Development Subcommittee and has led or served on others including Health and Human Resources, and Public Safety and Administration. Since 2007, he also has chaired the Spending Affordability Committee, helping to guide Maryland's finances during the recession and proving himself as a fiscal watchdog.

During the ceremony, Bohanan was applauded for being an integral part of the economic revitalization of St. Mary's County, including the development of the Patuxent River Naval Air Station and the expansion of the Southern Maryland Higher Education Center (where SU now offers master's and bachelor's degrees in social work). A past member of the St. Mary's County Historical Society Board of Directors, he also has worked to preserve that region's history and assist its rural and agricultural communities.

Bohanan previously was a member of the Ways and Means Committee, serving on subcommittees for Finance Resources and Transportation. He also has served on special committees and commissions to examine higher education affordability, accessibility and funding, early child care and education; transit development; and state government efficiency. He is a member of the Tri-County Council for Southern Maryland, and the Rural, Veterans and Bicycle and Pedestrian caucuses, and also leads work groups on emergency medical services and business climate.

"The Hargreaves Fellowship salutes public servants and also allows SU students to meet with outstanding state legislators to learn firsthand about the responsibilities and rewards of their work," said Dr. Adam Hoffman, PACE director. "Delegate Bohanan values higher education and recognizes the importance of civic experiences for college students. We look forward to his visit to campus later this spring."

Bohanan is the 12th recipient of the Hargreaves Fellowship. Past honorees include House Speaker Michael Busch; Senate President Thomas V. "Mike" Miller; senators J. Lowell Stoltzfus, Brian Frosh and Rob Garagiola; and delegates Talmadge Branch, Addie Eckhardt, Sheila Hixson, Adrienne Jones, Norman Conway and the late Howard "Pete" Rawlings. Sponsored by PACE, the award was made possible by contributions to SU in memory of the late John R. Hargreaves, a former member of the Maryland General Assembly from Caroline County.

For more information call 410-543-6030 or visit the SU Web site at www.salisbury.edu.