Monday, December 10, 2012
Hoy Honored With Perdue Leadership Award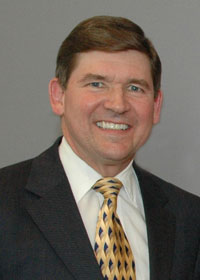 SALISBURY, MD---For more than 35 years, Dr. Murray "Ray" Hoy has touched the lives of tens of thousands of students through his work in higher education.

Salisbury University's Franklin P. Perdue School of Business recently honored him for his dedication, presenting him with the 2012 Perdue Leadership Award.

Hoy began his career in education at Chesapeake College in Wye Mills, MD, serving as its registrar from 1976-77. He spent 24 years there, serving in positions with increasingly greater responsibility, including director of admissions and registration, dean of student development, vice president for administrative services and, from 1997-2000, executive vice president for academic and administrative services.

In 2000, he became president of Wor-Wic Community College. During his tenure, enrollment has increased more than 94 percent, and the number of graduates has increased by 100 percent. He has overseen the creation of new programs in forensic science, science transfer, elementary and secondary transfer, emergency medical service, culinary arts and environmental engineering technology, as well as a truck driver training academy.

Under his guidance, the college's endowment has grown from $1.3 million to $6.5 million in the past 12 years. The campus also has seen a number of new facilities, including Guerrieri Hall (housing Wor-Wic's criminal justice program), the Student Center, the Jordan Center (providing child care services), the Workforce Development Center and the Allied Health Building.

In the community, Hoy serves on many boards and committees, having held leadership positions with the Peninsula Regional Medical Center Board of Trustees, Tri-County Visioning Committee, Maryland Association of Community Colleges and Maryland Association of Community College Presidents, among others. He is a member of organizations including the Salisbury Area Chamber of Commerce board of directors, Tri-County Council Regional Health Care Committee, Greater Salisbury Committee, Maryland Hospital Association board of directors and Governor's Workforce Investment Board.

In addition, Hoy is a 1996 graduate of Leadership Maryland and currently serves on its membership committee. He co-founded Shore Leadership, an organization committed to cultivating and providing resources for local leaders. A trustee at Asbury United Methodist Church, he also is a strategic planning facilitator for Salisbury Urban Ministries and the Salvation Army — Salisbury Corps.

Hoy has earned numerous community honors, including the Salisbury Area Chamber of Commerce Award, Tri-County Boy Scouts of America Distinguished Citizen Award and Tri-County Council First Citizenship Award. He also is a member of the Maryland Bar Association.

He earned his A.A. from Chesapeake College, his B.A. from Washington College, his M.S. in higher education administration from Johns Hopkins University, his M.A. in business management and supervision from Central Michigan University, his J.D. from the University of Baltimore School of Law and his D.Ed. in education leadership and innovation from Wilmington University. He lives in Salisbury with his wife, Donna. They have three grown children and three grandchildren.

The name of each year's Perdue Leadership Award winner is engraved on a plaque in the Perdue School. Each honoree also receives a commemorative award.

For more information call 410-543-6030 or visit the SU Web site at www.salisbury.edu.