Tuesday, November 20, 2012
University Writing Center Celebrates 10,000th Review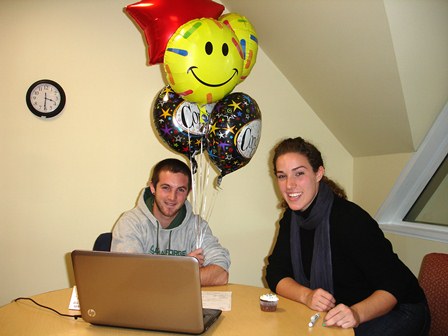 Nick Giambra and Noelle Ford
SALISBURY, MD---When sophomore business major Nick Giambra of Fredericksburg, VA, walked into the University Writing Center, he expected to receive assistance with a literature review for his English class.
In addition, he helped set a milestone. His paper became the Center's 10,000th review.
The idea for the facility began with a desire to create "a first-class, world-class writing Center that addresses the needs of the students and the University," said Dr. Nicole Munday, Center director, during a ceremony to celebrate the achievement.
The Student Government Association voted to donate a portion of student fees to help create and fund the Center. It opened in 2005 with six student writing consultants and mismatched surplus furniture from other offices on campus.
"We've had our MacGyver moments," said Munday, recalling that the Center's original conference table, originally from Blackwell Library, had holes on its surface. With the addition of a set of glasses from the SU Bookstore, they became pencil holders.
During the inaugural year, consultants received several weeks of training and reviewed 678 papers. Today, consultants enroll in for-credit courses and review some 2,500 papers annually. Their goal: Provide SU students with the assistance they need to take their papers from good to great.
"Having students who are so engaged in the writing process is very gratifying," said Dr. Maarten Pereboom, dean of SU's Charles R. and Martha N. Fulton School of Liberal Arts. "Regardless of what field you are in, being an effective writer can help you."
Dr. Tom Moriarty, director of SU's Writing Across the Curriculum Program, agreed. Serving as the Center's interim director this semester, he helped Munday distribute T-shirts to help commemorate the 10,000th review, featuring a Benjamin Franklin quote: "Either write something worth reading or do something worth writing."
Several of the Center's consultants have done both, representing SU at the National Conference on Peer Tutoring in Writing and the Mid-Atlantic Writing Center Association Conference. All have helped students like Giambra improve their writing.
"They get your thoughts flowing and make your paper flow easier," he said, calling the Center "a valuable resource for every college student."
The milestone review marked Giambra's second visit to the Center. Noelle Ford, the senior Spanish and English major who served as his consultant, said she enjoyed the feeling of community the Center creates: "We really do follow the mission of the University Writing Center, working with students to hone their writing skills, but also to create a desire to write and to write well. I am privileged to be part of it."
She hopes to put the skills she has learned working with students at the Center while pursuing a career with Teach For America.
Pereboom lauded the efforts of consultants like Ford in reaching the 10,000-review milestone: "You measure success in what you have done, not how long you have occupied a space."
As the Center has grown, so have its physical dimensions. Now in its second location in the Guerrieri University Center, it is scheduled to move into SU's new Academic Commons upon that building's anticipated completion in 2016. It also plans to expand its services in the near future to better serve SU's growing graduate programs.
Students wishing to schedule an appointment with the Center should call 410-543-6332, e-mail universitywritingCenter@salisbury.edu or visit the Center in Guerrieri University Center Room 206.
For more information call 410-543-6030 or visit the SU Web site at www.salisbury.edu.