Monday, November 19, 2012
SU Education Students Dedicate Peace Poles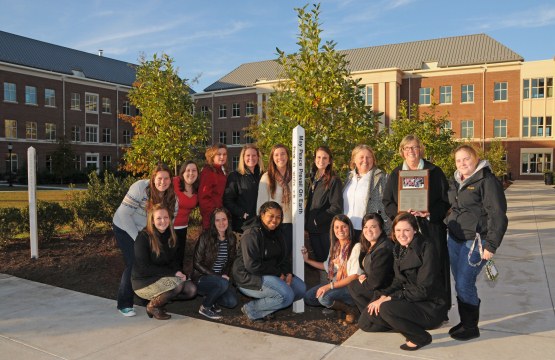 SALISBURY, MD---Two six-foot white poles, covered in eight different languages, now stand outside Salisbury University's Teacher Education and Technology Center to spread the message "May Peace Prevail on Earth."

The project was initiated by students in Dr. Patricia Dean's early childhood social studies class in spring 2012.

"As future teachers, the concept of peace is something we want to instill in our students," said senior Lindsay Manuel at a recent dedication ceremony. "People will know they are not just welcome here, they are accepted here."

Other students mentioned their desire to leave a legacy at SU, and how the peace poles represent unity within the campus community. The poles also send a message of peace to visitors, a message that the students want to carry throughout their lives.

Funds raised by the students to purchase the poles were matched by the Peace Study Center in Baltimore, whose mission is to help teachers create curriculum that emphasizes peace.

"I'm so glad that you all thought of this and asked us to be involved," said Hannah Pickworth, center president. "No matter how great we become as math or English teachers, if we aren't teachers of peace, what's the point? Thank you for being a teacher of peace in addition to your discipline."

Masahisa Goi started the international peace pole project in Japan in 1955. Devastated by destruction from WWII, Goi dedicated his life to uniting people across the world and spreading hope for world peace. Today, there are peace poles in 180 countries worldwide.

Languages featured on SU's poles include English, Hindi, Swahili, Chinese (representing an exchange student who was part of the class), Sign Language, Cherokee, Arabic and Spanish.

Pictured (back row, from left) are: Kelly Darcey, Amanda Avens, Jessica Gann, Mary Katherine Obenour, Hope Mahr, Samantha Dammon, Pickworth, Dean and Jacqueline Mizelle. Also pictured are Sydney Dobbin, Sarah Stuckey, Sharnaye Sollers, Manuel, Erin O'Shea and Melanie Walsh.

For more information call 410-543-6030 or visit the SU Web site at www.salisbury.edu.