Thursday, November 8, 2012
Jackson Chamber Music Series Presents Allegheny Baroque Nov. 9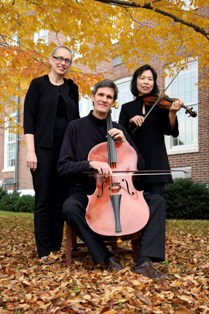 SALISBURY, MD---The Peter and Judy Jackson Chamber Music Series at Salisbury University continues Friday, November 9, with the Allegheny Baroque Ensemble.

Featuring violinist Sachi Murasugi, cellist Jeffrey Schoyen, harpsichordist Gwendolyn Toth and guest flutist Immanuel Davis, the concert is 7:30 p.m. in the Great Hall of Holloway Hall.

The program includes works by Telemann, de Fesch and Zavateri, performed on period instruments.

Murasugi has performed extensively as a professional orchestral and chamber musician. She has been concertmaster of the Sorg Opera Orchestra in Ohio and the Filarmonic del Bajio in Mexico. She also has been a member of the West Virginia Symphony, Louisiana Philharmonic and Springfield Symphony. She received the National Endowment for the Arts Rural Residency Grant in chamber music and performed a recital at Museo del Prado in Madrid that was broadcast on Radio Nacional de Espana. Holding a D.M.A. from Ohio State University, she is concertmaster for the SSO.

Conductor and music director of the Salisbury Symphony Orchestra (SSO) and the Salisbury Youth Orchestra, Schoyen teaches cello and bass at SU. He has given concerts throughout the United States, Germany, Mexico and Spain, and received a Frank Huntington Beebe Grant to study in London with William Pleeth. He is also a Tanglewood Gustav Golden Award recipient. Schoyen honed his cello skills at the New England Conservatory of Music and Carnegie Mellon University, before earning his D.M.A. at the State University of New York at Stony Brook.

Toth is one of only a handful of American conductors of historical performance ensembles and orchestras. She is the founder and director of ARTEK. Internationally, she has performed at festivals in Holland and the Czech Republic. She has released several albums, including a CD of Bach's Goldberg Variations on the lautenwerk and a compilation of works by Heinrich Scheidemann on the meantone organ.

Davis has performed as a recitalist and chamber musician at Weill Recital and Carnegie halls, as well as the Edinburgh Fringe Festival and the Queen Elizabeth II. He also has played on Broadway in Show Boat and Ragtime. A Fulbright Grant recipient, he was educated at the Juilliard School and has been invited to teach at institutions including Yale University.

Sponsored by the Office of Cultural Affairs, admission is free and the public is invited. For more information call 410-543-6271 or visit the SU Web site at www.salisbury.edu.