Monday, October 1, 2012
Shulman is Fall Riall Lecturer in Education at SU Tuesday, October 2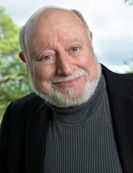 SALISBURY, MD---Carnegie Foundation for the Advancement of Teaching President Emeritus Lee Shulman speaks on "Teaching Among the Professions" as this semester's E. Pauline Riall Lecturer in Education at Salisbury University.

The American Association of Colleges Lifetime Achievement Award for Teacher Education recipient presents his talk 7:30 p.m. Tuesday, October 2, in Holloway Hall Auditorium.

Shulman, an educational psychologist, began his academic career at Michigan State University's College of Education. There, he collaborated with a colleague in the university's medical school on a study of medical decision making. In 1982, he became the Charles E. Ducommun Professor of Education at Stanford University, where he began his research of pedagogical content knowledge.

The researcher has received many professional accolades, including fellowships sponsored by the American Academy of Arts and Sciences, the American Association for the Advancement of Science; the George Washington University President's Medal; and the Grawemeyer Award in Education. He held leadership roles for the American Educational Research Association, National Academy of Education, and Harvard Graduate School of Education.

In addition, Shulman has written, edited and co-edited several books on education, including The Wisdom of Practice: Essays on Teaching, Learning and Learning to Teach, Teaching as Community Property: Essays on Higher Education, and Handbook of Teaching and Policy.

The E. Pauline Riall Lecture Series is named in honor of its founder, the long-time principal and teacher at SU's Campus School. The series' purpose is to bring to the University and community outstanding national lecturers in the field of education. Its first speaker, in 1986, was the late Ernest Boyer, also served as president of the Carnegie Foundation.

Sponsored by the Samuel W. and Marilyn C. Seidel School of Education and Professional Studies, admission is free and the public is invited. A free shuttle from the Guerrieri University Center parking lot is available from 6:30-7:30 p.m., returning following the lecture.

For more information call 410-543-6393 or visit the Riall Lecture Series Web site at www.salisbury.edu/educationspecialties/riall_lecture.html.