Monday, September 24, 2012
Dr. T. Paul Pfeiffer Inaugurates Fall Writers-on-the-Shore Series Tuesday, September 25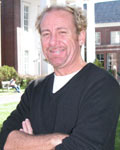 SALISBURY, MD---Dr. T. Paul Pfeiffer, chair of Salisbury University's Theatre and Dance Department, inaugurates this semester's Writers-on-the-Shore series 8 p.m. Tuesday, September 25, in the Black Box Theatre of Fulton Hall.

Pfeiffer reads from his original play, The Sin That Kills, which debuts under his direction Thursday-Sunday, October 11-14 and 18-21, in the Black Box. It is the first-ever theatrical reading in the series.

Based on the 1590 North Berwick witch trials in Edinburgh, Scotland, the drama follows the future King James VI as he confronts political infighting, religious terrorism and deep personal turmoil while waging holy war on the devil and himself.

As a playwright, Pfeiffer's credits include an adaptation of Charles Dickens' A Christmas Carol for the stage and an adaptation of Henry Fielding's Joseph Andrews, which he also directed. His one-man play, Apology for the Life of an Actor, received a special showcase at the Royal Shakespeare Company's "The Other Place," appeared at the Edinburgh Festival Fringe (2001) and earned a Maryland State Arts Council Individual Artist Award.

In addition to writing projects for stage and screen treatment, Pfeiffer has published and presented on various aspects of classical theatre. His professional training includes the Folger Theatre in Washington, D.C., and Shakespeare's Globe Theatre in London. He also studied Renaissance and Baroque dance at the Amherst Early Music Institute, and acting at the Herbert Berghoff Studio in Manhattan. He has acted for Manhattan's Riverside Shakespeare Theatre, among others.

At SU, he coordinates the theatre minor and teaches courses in accents and dialects, acting comedy, acting Shakespeare, acting for the camera and theatre history. As the artistic director of the University's Bobbi Biron Theatre Program, he helped garner a $500,000 endowment, an academic major leading to a B.A. in theatre, and a program recognized for its rigorous training program and varied theatrical seasons.

Pfeiffer holds a Ph.D. in theatre history and performance from the Union Institute and an M.A. in theatre history and directing from the University of Maryland.

Sponsored by the English Department and Writers-on-the-Shore, admission to his reading is free and the public is invited. For more information call 410-543-6030 or visit the SU Web site at www.salisbury.edu.