Wednesday, September 19, 2012
SU Senior Interns With Ryan Seacrest Productions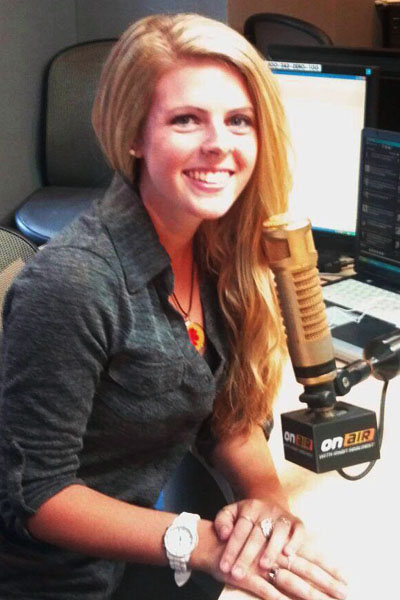 SALISBURY, MD---The Walt Disney Company is interested. So is Ryan Seacrest Productions.

For a Hollywood script writer, those words are music to the ears. For Salisbury University senior communication arts major Kelsey Hovermale, they represented one of the most important decisions of her college career.

In January, Hovermale applied for internships at both companies with an eye toward gaining experience in entertainment journalism. In February, Disney called back. After a brief interview process, she was in. For months she anticipated working for the entertainment powerhouse … then in August, fate stepped in. Or, more specifically, a representative for Seacrest did. One eight-hour writing test and several interviews later, she was an official Ryan Seacrest intern … and found herself making one of the most difficult phone calls of her life. How do you tell Disney, one of the world's leading entertainment companies, that you're dumping it?

"It was a hard conversation," said Hovermale. "But I had two amazing opportunities, and I could only choose one."

The resident of Clear Spring, MD (population 358, according to the 2010 U.S. Census), competed against some 400 other applicants for her position with Seacrest Productions. Only 12 were chosen nationwide. She had just six days to pack her bags, arrange transportation and move to Los Angeles to begin her internship. Following a weeklong tutorial in blogging, she joined the writing staff of Ryan Seacrest.com.

While most of her work there is proprietary, she can say that she takes on assignments and pitches stories for the Seacrest Web site, mostly covering music. She also said the position is a bit more rapid-fire than her job as a tutor for the University Writing Center or her last internship, working with SU's Facilities Reservations Office.

"It's a little faster-paced," she said. "Every second counts, and we are constantly being reminded of that."

She also said keeping up the speed required would not have been possible without her experiences at Salisbury: "I have felt so prepared by the classes I took and the professors at SU. I discovered I had the training to sit down and write about a number of different things, even though this was my first internship in news. I am so thankful for my experiences at Salisbury."

"I tell students to aim high, and she certainly did," said Dr. Jody Morrison, practicum supervisor in SU's Communication Arts Department. "We are very proud of Kelsey's accomplishments and the abilities that enabled her to land such a high-profile internship."

Hovermale hopes her experience with Seacrest Productions will give her an advantage in pursuing a permanent career in entertainment journalism following her anticipated graduation in May. That could be especially important in a field where entry-level positions are limited, she said.

Even if she does not immediately find work as an entertainment writer, working in California, she said, "is a dream come true." She hopes to return to Los Angeles to pursue a career in journalism or public relations.

For more information call 410-543-6030 or visit the SU Web site at www.salisbury.edu.