Thursday, July 19, 2012
SU Partners with City on Safety Improvements for Bateman/Onley Intersection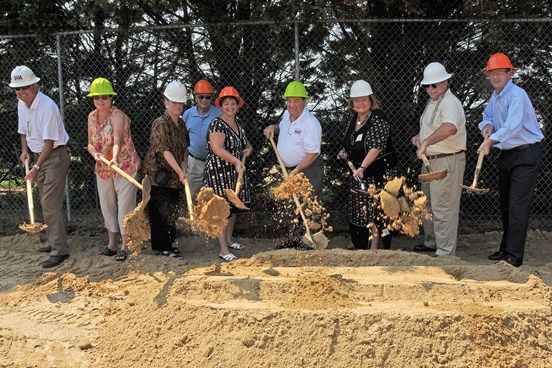 SALISBURY, MD---Salisbury University and the City of Salisbury today broke ground on safety improvements for the Bateman Street and Onley Road intersection on South Division Street in Salisbury. The $280,000 project includes upgrades to benefit pedestrians, motorists and cyclists.
"The University is pleased to see this project move forward and we appreciate the efforts of both the City Council and the Mayor," said President Janet Dudley-Eshbach. "Safety is the top priority of our campus and the increased traffic at the intersection has been a long time concern. The University is contributing $180,000 which is funding new sidewalks, additional lighting and other streetscape improvements. As a green campus committed to sustainability, SU is particularly grateful for the City's inclusion of a bicycle lane on Bateman Street."
Speaking at the ceremony, the President noted the health and wellness benefits for students who choose to walk or cycle. She also mentioned the University's desire to collaborate and be a "good neighbor."
One focus of the project is a safer pedestrian crossing for residents. Plans include 8-foot sidewalks and a coordinated crossing that works in unison with a new traffic signal. The new signal will allow left hand turns from South Division Street onto Onley Road (not currently possible). Bateman Street, set to be designated one-way westbound before the fall semester begins, also will feature 14 LED streetlights to increase safety.
Mayor Jim Ireton, an SU alumnus, thanked the campus for its contributions. He took a walk down memory lane, displaying SU memorabilia ranging from a tennis jacket to "I Love Salisbury" and "Big Event" t-shirts to the "This is Why I Squawk" t-shirt that he wore on national television. Only the heat stopped him from wearing his SU tie.
"I am excited and relieved that we've reached this milestone," Ireton said. The work and generosity of Salisbury University cannot be undervalued. We will continue to press for improvements in this area of our city and take steps to increase safety."
Also attending were Delegate Norman Conway, Donnie Drewer of the Maryland Department of Transportation, and Weather Channel correspondent and SU alumnus Mike Seidel.
For more information call 410-543-6030 or visit www.salisbury.edu.