Monday, July 2, 2012
SU Social Work Students Give Back to the Community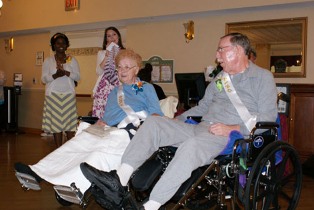 SALISBURY, MD---What's so unusual about a standing-room-only senior prom?
Well, the seniors literally were "seniors" — at 70, 80 and 90 years old!
Some 60 residents of Genesis Nursing and Rehabilitative Center danced to oldies played by a disc jockey, received handmade corsages, dined on refreshments and won door prizes during the event, organized by students from Eileen Gilheany's Practice III Macro Social Work class at Salisbury University.
One happy couple loved the fact that the prom coincided with their 66th wedding anniversary. Everyone had professional prom pictures taken and applauded when a prom king and queen were crowned.
In the class, students learn ways to more effectively work with and for communities and organizations. Their final assignment each semester is to plan and implement a community project. This semester, some 39 agencies, including Genesis, benefitted.
Other projects included an initiative that allowed some 600 Wicomico Middle School students to participate in a week-long anti-bullying campaign, learning facts about bullying and how to stop bullies. They also participated in an essay contest, conveying their experiences being bullied. The winners attended a pizza party.
The week culminated with everyone wearing blue in support of anti-bullying, and 600 students signed a banner pledging not to bully and to intervene to help others. The principal had the poster hung in a prominent place in the school's foyer.
At the Seaford House Residential Treatment Center for at-risk students in Delaware, the focus was on preventing suicide. Delaware's suicide rate is twice the national average, linked not only to bullying, but to the social rejection of lesbian, gay, bisexual and transgendered students, according to the Centers for Disease Control. Each week for a month, Gilheany's students discussed suicide and bullying with some 45 students at the center. The goal: raise awareness, self esteem and create a more accepting school environment where differences are embraced and individuality is celebrated.
Some of the center's students were surprised to learn that their actions could be considered bullying. In the end, they learned who they could turn to talk about their problems and created collages to celebrating their differences and individuality. Already, more students are coming forward to discuss their concerns with guidance counselors and teachers.
The volunteer work was not limited to just seniors and school-aged children. Mothers in treatment for addictions and pregnant teenagers also benefited when the SU students collected 226 baby items and $330 for them. Area food banks received some 1,580 cans of food. Students also raised $880 and created an organic garden complete with a birdbath and feeders for Hope and Life Outreach (HALO) Ministries, where homeless individuals may work to grow their own food.
Understanding the therapeutic value of companion pets, the students also collected $500 and four shopping carts of animal food raised for the Humane Society of Wicomico County. On the medical front, some $775 was raised to help find a cure for the rare disease Niemann Pick and $550 for Down Syndrome awareness.
Some 221 frightened foster care children suddenly forced to leave one home for another now have the comport of having their own "bag of hope": a brand new duffle bag packed with clothes, toys and grooming supplies, courtesy of SU's students.
In all, the students raised awareness about social problems, along with some $6,725 for these organizations, in addition to collecting food, clothes, school supplies and more. Students in SU's "distance learning" social work programs at Chesapeake College in Wye Mills, MD; Cecil College in Rising Sun, MD; and the University System of Maryland at Hagerstown, MD, also contributed, assisting non-profits in their areas.
For more information call 410-543-6030 or visit the SU Web site at www.salisbury.edu.