Friday, June 1, 2012
SU's Johnson Explores Films of Richard Linklater in New Book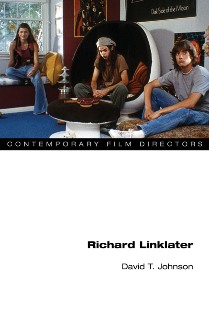 SALISBURY, MD---Writer-director Richard Linklater's independent films (Fast Food Nation, Me and Orson Welles) are as well known as his commercial movies (Dazed and Confused, Bad News Bears).

Dr. David Johnson of Salisbury University's English Department, however, was disappointed there was not more scholarly information available on the director or his movies. He seeks to change that with his new book, Richard Linklater, part of the University of Illinois Press' Contemporary Film Directors series.

"What I was able to do in this project was immerse myself in a body of films that had interested me for a long time," he said. "The project grew out of a recurring frustration related to my teaching. Where was all of the writing about his films? Here is this talented director with this really interesting body of films, but there is very little on him."

It was a concern that went back to Johnson's time as a graduate student. Upon becoming interested in other titles in the Contemporary Film Directors series, however, he saw an opportunity to change that: "I thought to myself, 'I'd love to write the entry for Linklater.'" He approached the series' editor, noted film scholar James Naremore, who agreed Johnson was the right person for the job.

In addition to repeated and immersive viewings of Linklater's films, Johnson spent a considerable amount of time speaking with the director himself. Phone calls to Linklater at his Austin, TX-based production company, Detour, led to lengthy, insightful conversations that come through in the book. At the time, Linklater was editing his 17th movie, Bernie, featuring Jack Black, Shirley MacLaine and Matthew McConaughey.

"I admire Linklater's range and his sense of risk," said Johnson. "He will make a larger studio film, but then he'll also try some very interesting experiments."

One such experiment is in its 10th year of filming. Tentatively titled Boyhood, it will follow the real-live growth of a boy from ages 6-18. It features shades of Linklater's Sun series, which is a particular favorite of Johnson.

That series follows two lovers over nine-year increments. They fall in love then are separated during the first film, Before Sunrise, then run into each other nine years later in its sequel, Before Sunset. Because the movies were filmed nine years apart, the actors (Ethan Hawke and Julie Delpy, also co-screenwriters for the project) aged organically, without the help of special effects or makeup, giving the series an almost documentary-like appeal. A third film, also shot in real time, will check in on the couple several years following the sequel.

The co-editor of SU's Literature/Film Quarterly, a popular international journal devoted to the scholarly study of literary film adaptations, Johnson hopes readers of his book come away with appreciation for Linklater and his films. He also hopes to instill in them a desire to learn more about the cinema in general, along with other humanities including art, literature and history.

The book is already receiving critical praise. The Library Journal calls it "ideal for scholars of American independent cinema or those interested in the director's movies," adding that the film-by-film discussions "are largely successful, focusing both on the philosophical underpinnings behind each movie's uniquely structured narrative and Linklater's distinctive formal devices."

For more information call 410-543-6030 or visit the SU Web site at www.salisbury.edu.