Thursday, April 19, 2012
SU Dance Company Spring Concert Wednesday-Saturday, April 25-28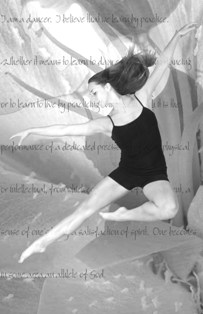 SALISBURY, MD---The Salisbury University Dance Company presents its annual Spring Concert Wednesday-Saturday, April 25-28, in Holloway Hall Auditorium. Curtain is 8 p.m.

This season's program includes new choreography by the company's artistic director, Mary Norton, as well as work by resident faculty member Jessica Hindman-Wheatley.

Featured work in this spring's program is "Southern Girls" by guest choreographer Lucy Bowen-McCauley. This dance, set to the music of Cheap Trick, is a playful look at a day at the beach in southern California. Bowen-McCauley is the artistic director of Bowen-McCauley Dance in Arlington, VA.

She is the recipient of the Metro D.C. Dance Awards Lifetime Achievement Award in Dance Education. She also has earned the Alumni Path of Inspiration Award from the Interlochen Center for the Arts and the Elizabeth Campbell Award for Achievement in Arts, presented by the American Association of University Women. Bowen–McCauley Dance performs regularly at the Kennedy Center for the Performing Arts.

Alumna Katie Erdman returns to present a new modern work set to music by Everclear. Erdman is a former company member and past president. While a member of the company, her choreography earned inclusion in the Spring Concert for two consecutive years.

"Harmony," a contemporary work by company member Felicia Grube also is included in the program. Grube was the adjudicated student choreographer in the company's 2011 Fall Showcase. She has set her work to original music composed and recorded by her brother's group, The Jesters of Kindness.

Local artist Staci Alexander's choreographic diversity is showcased in two pieces. "Mirror" is a contemporary hip hop dance to music by Lil Wayne and Bruno Mars. Music by jazz legend Dave Brubeck sets the tone for her restaging of "Unsquare Dance," a rhythm tap dance originated by choreographer Bruce Stegmann.

Vivaldi's Four Seasons provides the inspiration for director Norton's ballet work of the same name. The show concludes with Hindman-Wheatley's musical theater production of "Money" from the musical Cabaret.

Admission is $15, $12 for seniors age 62 and up, SU alumni and non-SU students. SU ID holders receive one ticket free. Reservations are not required. Tickets are sold at the door beginning one hour before each performance.

To purchase tickets in advance call the SU Box Office at 410-543-6228 or order online at www.salisbury.edu/theatreanddance.