Thursday, April 19, 2012
Award-Winning Author Gantos Speaks at SU Tuesday, April 24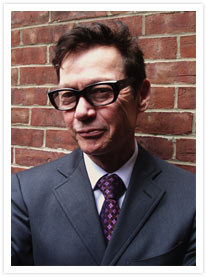 SALISBURY, MD---Joey Pigza. Jack Henry. Rotten Ralph.

These are names many of today's children know and love; yet, none of the people and creatures they represent are real. They all have sprung from the mind — and pen — of award-winning children's author Jack Gantos.

Gantos discusses his works and his life as an author 5:30 p.m. Tuesday, April 24, in Room 226 of Salisbury University's Teacher Education and Technology Center.

From the eccentric family of Joey Pigza to the middle school challenges of Jack Henry to the lessons learned by Rotten Ralph the cat, Gantos has been creating memorable characters since 1976. That year, while in college, he and his friend, illustrator Nicole Rubel, published their first book, Rotten Ralph. More than three decades later, Ralph is the subject of an entire line of picture and young reader books.

During that time Gantos has won national acclaim as the author of books including Joey Pigza Swallowed the Key, a National Book Award finalist, and Joey Pigza Loses Control, a Newbery Honor book.

In addition to writing for children, he also has received praise for his books for adults and young adults. His autobiographical Hole in My Life won the prestigious Newbery Award, the Michael L. Printz Award for Excellence in Young Literature and the Robert F. Sibert Informational Book Medal. It recounts his brief post-high school career transporting and selling marijuana in New York City and subsequent time in prison — experiences that helped him realize his writing career.

He also has received praise from other well-known authors. Humorist Dave Barry calls his semi-autobiographical Dead End in Norvelt a "brilliant book." His young adult novels, Desire Lines and The Love Curse of the Rumbaughs, touch on moral and sometimes controversial issues such as same-sex relationships and familial connections.

Sponsored by SU's Teacher Education Department, admission is free and the public is invited. For more information call 410-543-6030 or visit the SU Web site at www.salisbury.edu.