Thursday, November 3, 2011
SU Theatre Presents 'The Servant of Two Masters' November 10-20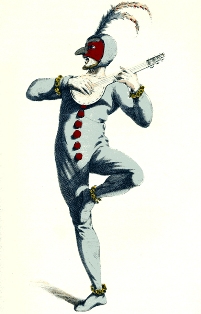 SALISBURY, MD---Truffaldino is hungry.
That's the driving force behind Carlo Goldoni's The Servant of Two Masters, presented by Salisbury University's Bobbi Biron Theatre Program Thursday-Sunday, November 10-13 and 17-20. Directed by Robert Smith of the Theatre and Dance Department, curtain is 8 p.m., 2 p.m. Sundays.
The title character's appetite gets him into trouble throughout the 18th century commedia dell'arte play. Always complaining of an empty stomach, Truffaldino sees the opportunity to earn double meals by serving not only his master, Beatrice (whom he believes is actually her brother, Federigo), but a second master, Beatrice's lover, Florindo. His mission: do both of their biddings without getting caught.
Florindo recently killed Federigo, who forbade them to marry, in a duel. Disguised as her deceased sibling, Beatrice collects dowry money from Pantalone, the father of her brother's fiancée, Clarice, in hopes of using these funds to help Florindo escape the city.
Meanwhile, Clarice has become engaged to another man, Silvio, whose existence Pantalone must hide from the disguised Beatrice, whom he believes also plans to wed his daughter. Complications increase further when Pantalone's servant, Smeraldina, falls in love with Truffaldino.
The New York Times calls The Servant of Two Masters "expert farce" and "a very generous immersion in pure buffoonery." Variety hails it as "highly entertaining."
The cast includes Joe Arnett as Truffaldino, Linda Bancroft as Smeraldina, Chelsea Hines as Beatrice, Chris Pence as Florindo, Michael Windsor as Silvio, Ashley Smith as Clarice, Matt Lewis as Pantalone, Matt Dietz as Dr. Lombardi, Matt Cox as Brighella, Reed DeLise as Waiter/Porter, Spencer Bath as Waiter, Dayton Young as Muffeletta and James B. Carpenter as Prompter/Effects.
The Servant of Two Masters is recommended for mature audiences. Admission is $15, $12 for seniors and non-SU students. SU ID holders receive one ticket free. Tickets are available online at www.salisbury.edu/theatreanddance. Tickets also may be purchased through the SU Box Office, Fulton Hall Room 100, 410-543-6228.
For more information call 410-548-5588 or visit the SU Web site at www.salisbury.edu.