Thursday, November 3, 2011
SU Dance Company Presents 22nd Annual Fall Showcase November 9-12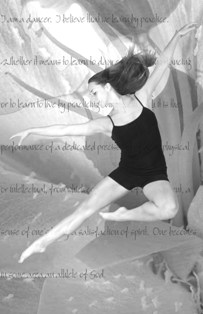 SALISBURY, MD---The Salisbury University Dance Company, directed by Mary Norton, presents its 22nd annual Fall Showcase 8 p.m. Wednesday-Saturday, November 9-12, in Holloway Hall Auditorium.
This year's program features works by nine company members. The show concludes with the finale, "Sing Sing Sing," by guest choreographer Staci Alexander.
Alexander, a Salisbury native, studied dance locally and at 17 joined the cast of Up With People. She toured four times nationally and internationally with Young Americans. In 2006, she joined the Human Project Urban Dance Theater in Tucson, AZ. She has presented several works with the company, including the Michael Jackson-based "Tribute" and "Celebration."
Two company members present choreography for the third consecutive year. Velia Biagianti's "Big Spender" is a jazz dance influenced by Broadway-style technique to the music of Dame Shirley Bassey. The Jesters of Kindness provide the musical inspiration for Felicia Grube's "Harmony." This modern dance explores the instrumental complexity of the song with the movement of the dancers.
Modern dance technique also is showcased in dances by Marisa Corbett and Stephanie Johnson. Corbett uses music by Florence and the Machine for "Shake It Out." Johnson has selected a song by vocal artist John Mayer for her dance, "Gravity."
Contemporary dance style is utilized in "Identity" by Emily Kirshenbaum, "Until the Earth Stops Turning" by Chelsea Chmel and "Delicate" by Gina Ingrao. Kirshenbaum's work explores dual personality and is set to music by Zoe Keating. Music by Lamb is the inspiration for Chmel's work, which focuses on the pursuit of happiness. Ingrao's dance uses human nature as its theme and is set to music by Damien Rice.
Jazz dance and music by Led Zeppelin form the basis of "Pick-Pocket Persuasion" by choreographer Erin Nooney. "I Got Rhythm," a fusion of jazz and hip-hop dance styles to the music of Lena Horne and Q-Tip is Morgan Pearson's contribution to the showcase.
This year's concert benefits Susan G. Komen for the Cure®. Admission is $15, $12 for seniors, teens and SU Alumni. Children under 12 and SU ID holders are admitted free.
Reservations are not required. Tickets are available at the door beginning at 7:30 p.m. each night. For more information or to purchase tickets in advance call 410-543-6228 or visit the SU Theatre and Dance Department Web site at www.salisbury/theatreanddance.