Wednesday, October 19, 2011
Mitzi Perdue Shares Experiences During November 1 Book Signing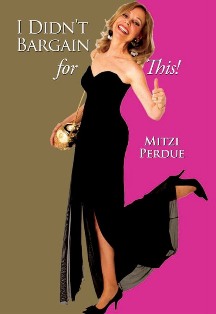 SALISBURY, MD---Mitzi Perdue made her first big media deal as a teenager. While her parents were out, she signed papers allowing the exterior of their Boston home to be used in a scene for the Walt Disney movie The Parent Trap. The experience also included a role as an extra in the film, for which she was paid $10. It was her first time in front of a camera.
More than 50 years later, she has stood before many cameras and microphones, and logged countless hours on word processors and computers. The daughter of Sheraton Hotels founder Ernest Henderson and wife of late poultry magnate Frank Perdue, she shares these and other experiences in her autobiography, I Didn't Bargain For This! She will read highlights and sign copies during a special evening at Salisbury University 7 p.m. Tuesday, November 1, in Perdue Hall Room 151.
"This is not the story of a society socialite—this is the story of someone who has gone out and done something in this world with great brain power, and a degree from Harvard we might add," writes one reader on the book review Web site Whom You Know.com.
The engaging memoir includes stories from Perdue's childhood—like the time she and her brother discovered the joys of a warm pile of horse manure on a cold New England day—as well as working in the media, raising children and fostering the public good.
Shaped by her parents' values and work ethic, including her father's efforts to promote racial equality and his strong belief in fair treatment, Perdue has dedicated her life to civic causes. An entrepreneur who bought and managed rice farms and vineyards in northern California, she is a past president of the 35,000-member American Agri-Women organization and was a U.S. delegate to the United Nations Conference on Women in Nairobi. In 2008, SU awarded her an honorary Doctorate of Public Service.
Locally, she established Healthy U of Delmarva, a 9,000-member organization encouraging healthy lifestyles, now overseen by SU. She also created the B Healthy U iPhone app, designed to help people track lifestyle factors that influence their energy, sleep, hunger, mood and ability to handle stress.
A writer, programmer, software developer and designer of hand-carved and painted eggs, Perdue is the author of the I Want to EggScape Book, A Quick Guide to Successful Media Appearances, six cookbooks and a biography of Frank Perdue. She was an environmental and philanthropy columnist for 22 years, syndicated to more than 400 newspapers nationwide by Capitol News and Scripps Howard.
A prolific writer, she has penned more than 1,100 newspaper and magazine articles, and produced and hosted more than 400 episodes of the half-hour interview show Mitzi's Country Magazine on KXTV in Sacramento, CA. In addition, she hosted and produced more than 300 editions of the syndicated program Mitzi's Country Comments and hosted a weekly national radio series, Tips From the Farmer to You.
I Didn't Bargain for This! has received five stars, the most possible, on Amazon.com. Reviewers on the site call the book "remarkable" and "inspirational," adding, "What a read, and what a life!"
Benefiting the Edward H. Nabb Research Center for Delmarva History and Culture at SU, admission is $10, with checks made payable to the Salisbury University Foundation, Inc. Reservations are required.
For more information call 410-543-6312 or visit the Nabb Research Center Web site at http://nabbhistory.salisbury.edu.