Monday, July 18, 2011
Healthy U Announces HUEY Award Winners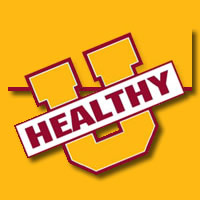 SALISBURY, MD---Healthy U of Delmarva at Salisbury University annually awards $6,000 to local community members and groups for promoting healthy choices.
The winners of the 2011 HUEY Awards are: Center 4 Clean Start for corporation; Calvin B. Taylor Bank for small business; James M. Bennett High School for education and Trinity United Methodist Church for house of worship. Hudson Health Services won Most Outstanding, and its admission director, Shiela Pullen of Salisbury, was the individual winner.
"The HUEY awards are just one way Healthy U of Delmarva encourages residents of the Lower Eastern Shore to make healthy lifestyle changes," said Mitzi Perdue, who founded the organization in 2002. "I'm thrilled by the creativity and dedication that these honorees have shown in developing programs to
promote wellness among their employees, students and congregation members."
The Center 4 Clean Start is recognized for offering clients healthy programs on topics including smoking cessation, nutrition, stress management, infant safety, dental screening, relationships and the impacts of drug and alcohol use. The center is committed to helping clients find and utilize healthy events, programs and resources. Many staff members also walk and monitor their own weight and health.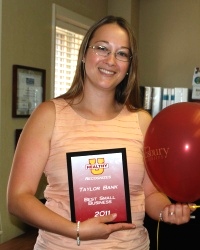 The Calvin B. Taylor Bank earned kudos for the second consecutive year for the camaraderie fostered among employees who are exercising together, sometimes proudly wearing their "Taylor Bank Fiscally Fit" t-shirts. The bank is planning its second wellness fair, which includes screenings for blood pressure, stress and diabetes. It also provides wellness tips and healthy snacks in the office, and has encouraged employees to participate in community events including Relay For Life and the March of Dimes walk.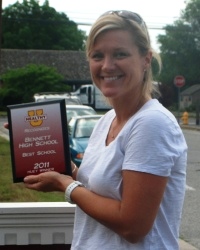 Bennett High held four new Faculty Fitness programs, including yoga classes, and opened its fitness and weight rooms. The school also started providing a "health tip of the day" on morning announcements, covering such topics as stress management and nutrition. A Walking Works program offered free pedometers to participants. The school held two blood drives, two "Biggest Loser" competitions, and its second annual 5K run/walk. "Casual days" throughout the year raised nearly $5,000 to benefit various wellness causes, and staff participated in community walks, runs, rides and triathlons.
Trinity United Methodist Church won its HUEY for continued dedication to spreading the word about healthy living. The church's health outreach ministry provides health-related resources to educate the congregation and community.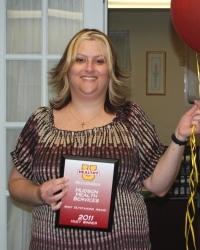 The Most Outstanding HUEY went to Hudson Health Services, Inc. for its SMILE team's dedication to helping employees get healthy. Last summer's Healthy Challenge to find a "biggest loser/winner" extended throughout the year, with a stalwart group of employees participating in weekly weigh-ins and measurements. Management offered to cover half of Mid-Delmarva YMCA membership fees for all full-time employees. Many staff members hit the gym and Weight Watchers meetings together.
"I started exercising for the first time in years thanks to Hudson," Pullen said. An inspiration to co-workers, she lost 20 percent of her body weight with the help of her new gym membership and the company's switch to fruit cup snacks and salad bar lunches.
For more information on Healthy U or details about participating in the 2012 HUEY's, call 410-742-9202 or visit the Healthy U Web site at www.healthyudelmarva.org.