Friday, July 23, 2010
Chronicle Again Names SU 'A Great College To Work For'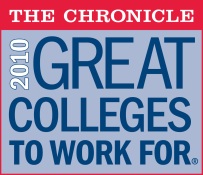 SALISBURY, MD---For the second consecutive year, Salisbury University has been named one of The Chronicle of Higher Education's Great Colleges to Work For®, honored for its creation of an exceptional work environment.
Based on responses from more than 42,500 administrators, faculty and staff from 277 colleges and universities nationwide, the results of the third annual survey are published in the special Academic Workplace supplement of the Chronicle's July 30 issue and online at http://chronicle.com/indepth/academicworkplace.
"Even in a down economy when many colleges are freezing salaries or having layoffs, employees still find good in their work," said Chronicle editor Jeffrey J. Selingo. "Great workplaces are about more than dollars and cents. The Great Colleges to Work For...have created environments where people feel appreciated and valued."
The program is designed to recognize campuses for specific best practices and policies in the areas of work environment, pay and benefits, and institutional policies. Data was collected from a two-part assessment administered by ModernThink LLC, a Wilmington, DE-based research and consulting firm: a workforce climate survey for employees and an institutional audit. The results were based primarily on feedback collected from employees.
For more information call 410-543-6030 or visit the SU Web site at www.salisbury.edu.