Friday, April 16, 2010
Two SU Faculty Earn USM Regents Awards for Excellence
SALISBURY, MD---Two Salisbury University professors have received the University System of Maryland's highest faculty honor: the Regents Award for Excellence.
The Regents recognized Dr. Brian Polkinghorn of the Conflict Analysis and Dispute Resolution Department for excellence in public service and Dr. Jill Caviglia-Harris of the Economics and Finance Department for excellence in teaching.
"The recognition of these two distinguished faculty affirms what the campus community already knows," said Dr. Diane Allen, SU provost and senior vice president of academic affairs. "Our students benefit greatly from their expertise, and enthusiasm for service and teaching."
Polkinghorn, who is the executive director of SU's Center for Conflict Resolution, has taught more than 35 conflict resolution courses over the past 17 years. He also has taken part in highly complex and sensitive international disputes in over 30 countries. Recently he worked with the United Nations mandated University for Peace in Costa Rica, assisting 17 universities from Southeast Asia, India, the Middle East and the Horn of Africa in simultaneously constructing masters' programs in peace and conflict studies.
"Dr. Brian Polkinghorn is a devoted teacher and practitioner of conflict resolution and peaceful negotiation both on and off campus," said SU President Janet Dudley-Eshbach. "[He] is sought out across the country and the world to bring dissonant parties together to establish collaborative, peaceful coexistence, and to train others in this important body of expertise."
A Fulbright Scholar in spring 2010, Polkinghorn assisted with the design of and taught in Tel Aviv University's graduate program in international conflict resolution and mediation. He also is involved with ongoing conflict intervention projects in Israel, including work with the Office of President Shimon Peres.
Polkinghorn is a two-time recipient of the University System of Maryland's prestigious $80,000 Wilson H. Elkins Professorship. He used the awards to establish SU's "Conflict Scholar in Residence" program, which featured courses co-taught by Dr. Arun Gandhi, grandson of Mahatma Gandhi. Together they are publishing the book Gandhi on Nonviolence and Servant Leadership: Promoting Productive Change in a Turbulent World. Contributing authors include former presidents Lech Walesa of Poland and F.W. deKlerk of South Africa, both past speakers in the Center for Conflict Resolution's "One Person Can Make a Difference" series. Polkinghorn also has published more than 40 articles and book chapters in such top-tiered journals as The International Journal of Conflict Management.
Dr. Thomas Boudreau, department chair, estimates Polkinghorn has contributed over 1,500 hours to public service projects in the last three years alone. This includes working with students, state employees, private sector groups and citizens as a trainer, mediator and facilitator on issues and disputes ranging from fire service coverage in local municipalities to construction of the Library of Congress' National Repository facility.
"His energy and enthusiasm for public service is contagious and his productivity in serving others in unheralded," Boudreau said.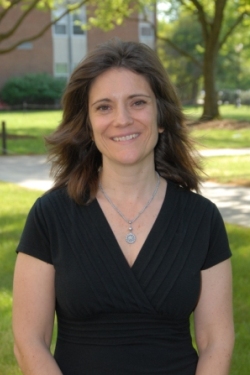 Caviglia-Harris, who joined the SU faculty in 1998, has taught courses on microeconomics, interdisciplinary environmental topics, and her field of expertise: environmental and natural resource economics. In this class, she aptly balances the abilities of environmental issues and economics majors alike through hands-on field trips to fisheries and lumber mills, and real-world projects.
"Dr. Caviglia-Harris demonstrates high standards of teaching," said Dr. Edward Robeck, a colleague from the Teacher Education Department who has observed her. "Her teaching is among the best examples of instruction."
Dudley-Eshbach said: "Dr. Jill Caviglia-Harris's skill as a classroom teacher, research coordinator, mentor, scholar and colleague are valued and admired by faculty and students alike. [She] has a gift in the classroom which inspires economics majors to continue their study and non-majors to shift their focus!"
The economist skillfully integrates her teaching and research. Her development of new approaches has lead to journal publications, while empirical research has generated student projects, and grant-funded fieldwork in the Amazon. She is an enthusiastic supporter of undergraduate research and has mentored students who have gone on to graduate school and jobs at universities, Congress and the Environmental Protection Agency.
"As a professor now, I look back on her teaching skills in and out of the classroom, and I hope to someday have as much of an impact on my students as she has had on me," said SU alumna Elaine Frey ('02).
In 2008, Caviglia-Harris was awarded $530,000 from the National Science Foundation (NSF) to continue her study of deforestation and land use in the Brazilian Amazon with faculty from North Carolina State University and the University of California-Santa Barbara. Involving SU undergraduates, she created a unique opportunity for them to gain first-hand experience with field work, data collection and analysis.
"This level of research is usually reserved for Ph.D., post-doctoral and master's students," said SU senior Simon Hall, who spent last summer in Rondonia, Brazil. "If it were not for Dr. Caviglia-Harris's dedication to undergraduate students, the opportunity to work on a project of this magnitude would have never been available to me."
The NSF grant was Caviglia-Harris's third to focus on the Amazon. She has published 20 articles in Environment and Development Economics, Ecological Economics and International Journal of Sustainable Development, among others. She also has delivered over 30 presentations at regional, national and international conferences.
"Great teachers can translate the beauty of their discipline to outsiders," said Dr. Michael Lewis, director of the Environmental Issues program. "Dr. Caviglia-Harris has this gift."
For more information call 410-543-6030 or visit the SU Web site at www.salisbury.edu.