Tuesday, March 9, 2010
Delegate Talmadge Branch Named SU Hargreaves Fellow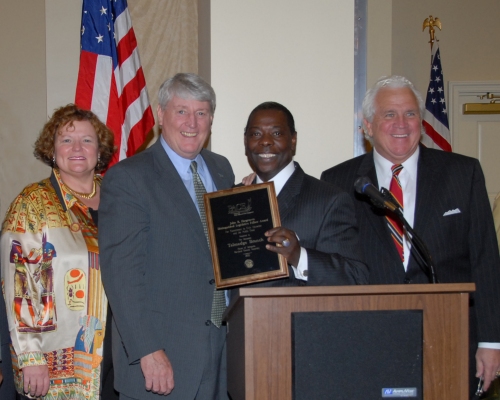 From left: SU President Janet Dudley-Eshbach, Maryland House Speaker Michael Busch, Delegate Talmadge Branch and Maryland Senate President Thomas V. "Mike" Miller.

SALISBURY, MD---Maryland Delegate Talmadge Branch is Salisbury University's 2010 John R. Hargreaves Distinguished Legislative Fellow.

Designed to recognize outstanding legislators for effective and honorable public service, the award was presented by SU President Janet Dudley-Eshbach during a ceremony at the Lowe House Office Building in Annapolis.

"Delegate Talmadge Branch's lifelong commitment to public service and his leadership in the Maryland House of Delegates epitomize the civic engagement we encourage among our students," Dudley-Eshbach said. "As majority whip, he is a strong advocate for the citizens of Maryland, especially in the areas of welfare reform and education. I'm particularly pleased that Delegate Branch is a Salisbury University alumnus, a role model with whom students can identify, inspiring them to become engaged in their communities."

Branch serves the 45th Legislative District. A House member since 1995, he works on many committees including the House Appropriations Committee, Legislative Policy Committee and the Special Joint Committee on Pensions, and is the House chair of the Joint Committee on Welfare Reform. He also has chaired the Maryland Legislative Black Caucus.

"We'll be very excited to have Delegate Branch back on our campus," said Dr. Francis Kane, co-director of SU's Institute for Public Affairs and Civic Engagement (PACE). "When he spoke with students a few years ago, he energized them with his dynamism and his obvious commitment to the public good."

Branch is the ninth recipient of the Hargreaves Fellowship. Past honorees include Delegate Addie Eckardt, House Speaker Michael Busch; Senate President Thomas V. "Mike" Miller, senators J. Lowell Stoltzfus and Brian Frosh; and delegates Sheila Hixson, Norman Conway and the late Howard "Pete" Rawlings.

Sponsored by PACE, the Hargreaves Fellowship not only salutes public servants, but also allows SU students to meet with outstanding state legislators so they can learn about the responsibilities and rewards of public service.

Funding for the award was made possible by contributions to SU in memory of the late John R. Hargreaves, a former member of the Maryland General Assembly from Caroline County. As part of the fellowship program, Branch will meet with PACE students later in the legislative session and visit the SU campus to speak to students and community members about his service in the House of Delegates. For more information call 410-543-6030 or visit the SU Web site at www.salisbury.edu.