Monday, October 5, 2009
SU Senior Continues Long Family Legacy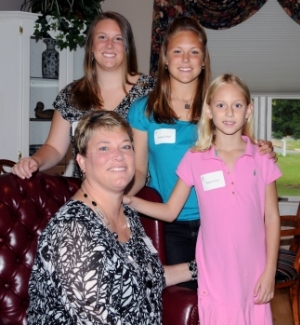 SALISBURY, MD---Senior Amanda Ward is no stranger to the Salisbury University campus.
The math and secondary education major is the ninth person in her family to attend SU. Her mom, two aunts, two uncles, a great aunt and uncle, and a great, great aunt are all part of that long line of SU alumni. Many are educators who graduated from SU's Seidel School of Education and Professional Studies.
"I actually had no intention of applying to SU, but my mom asked if I would at least visit," Amanda said. "I just really enjoyed the size of the campus. It was much more inviting than a lot of others, and it just won me over!"
She recently attended the Legacy Breakfast during SU's Family Weekend with her mom, Beverly Ward, and two sisters, Andrea and Alison.
"We love Salisbury," said Beverly, who earned a B.A. Social Work in 1984. "Being a guidance counselor I send a lot of kids to SU. I never wanted to influence Amanda because there were so many of us who had gone there. But, I think it's an excellent school, and she very much considers it to be her second home now."
"Salisbury is far enough away, but it's also nice that I can be home in Denton in an hour," said Amanda, who plays intramural softball and volleyball on campus.
Her great, great aunt, Marie Behrens Lawrence, graduated in Salisbury's second class and worked as a teacher. Like Amanda, her great uncle, Paul Ward ('67), was also math major, and lives in Snow Hill, with his wife, Janice ('65), a biology major. Both of her uncles, Henry ('80, '86) and Jody ('93, '98), earned bachelor's degrees in physical education and master's in education. Their wives, Teresa ('84) and Tracy ('94, '99), studied accounting and education, respectively.
Beverly Ward said her younger daughters want to continue the family tradition.
A senior at North Caroline High School in Denton, Andrea will apply to SU this fall. And, despite only being in fourth grade, Alison, and her cousin Emily, have also already decided they will attend SU—and be roommates.