Thursday, April 30, 2009
Former Maryland Governor Robert L. Ehrlich Jr. Speaks at SU May 5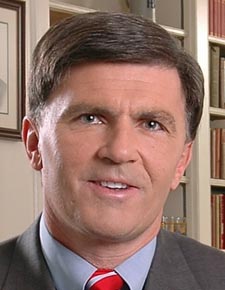 SALISBURY, MD---Former Maryland Governor Robert L. Ehrlich, Jr. speaks on "The 12 Principles that Bind" 4:30 p.m. Tuesday, May 5, in the Great Hall of Salisbury University's Holloway Hall. Ehrlich's visit to SU is sponsored by the College Republicans and the Institute for Public Affairs and Civic Engagement (PACE).
"On behalf of SU's College Republicans, we are honored to have someone of Governor Ehrlich's stature speak to the SU community," said Matt Teffeau, vice president of the College Republicans. "I am personally inspired by former Governor Ehrlich's achievements and leadership during and after his time in office."
Ehrlich is currently a partner at the law firm Womble Carlyle Sandridge & Rice PLLC in Baltimore. Having served as Maryland's Governor, a U.S. Congressman, a state legislator and a civic litigator, Ehrlich now counsels clients on government matters, with expertise in health care, finance and economic development.
"We are delighted that former Governor Ehrlich is back on the SU campus speaking to our students," said President Janet Dudley-Eshbach. "We appreciate his efforts on behalf of higher education in the state of Maryland. SU's new Teacher Education and Technology Center became a reality, thanks to his support."
During his last visit to SU in 2006, Ehrlich held a regional cabinet meeting honoring citizens and organizations for their contributions to Maryland.
In 2002, Ehrlich became Maryland's first Republican governor elected to office in 36 years. When he was governor, Maryland experienced a growth of new private sector jobs and enacted policies that positioned Maryland as a national leader in education, biotechnology, health care and minority business advancement. Ehrlich doubled funding for need-based college scholarships, which helped college enrollment reach an all-time high.
Ehrlich has received numerous awards, including "Legislator of the Year" from the Maryland States' Attorneys Association and "Governor of the Year" from the National Multiple Sclerosis Society. During his time in office, Ehrlich created the nation's first cabinet-level Department of Disabilities, for which he earned the "Highest Recognition Award" from the U.S. Secretary of Health and Human Services.
Ehrlich serves on numerous boards, including Dunbar Armored, the Maryland Public Policy Institute, the Mentoring Partnership and Thanks USA. In 2003, he was appointed by President George W. Bush to the National Infrastructure Advisory Council. He is also a special advisor to the board at Bay National Bank.
Admission to his talk is free and the public is invited. For more information, call 410-543-6030 or visit the SU Web site at www.salisbury.edu.