Thursday, April 9, 2009
Regents Honor Dr. Michael Bardzell for Teaching Excellence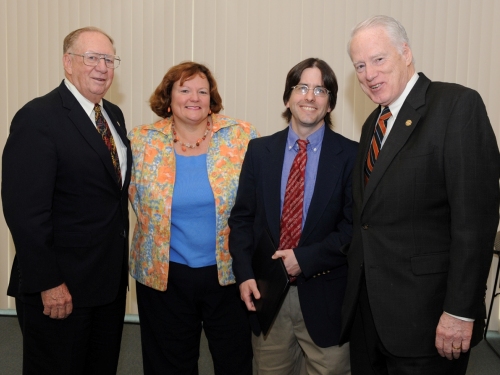 Pictured (L-R) are Clifford M. Kendall, chair of the USM Board of Regents; Dr. Janet Dudley-Eshbach, SU President; Dr. Michael Bardzell, faculty in SU's Mathematics and Computer Science Department; and Dr. William E. Kirwan, Chancellor of the USM.
SALISBURY, MD--- Dr. Michael Bardzell of Salisbury University's Mathematics and Computer Science Department has received the highest faculty honor given by the University System of Maryland: the Regents Award for Excellence in Teaching.
"Dr. Michael Bardzell is clearly deserving of recognition from the Board of Regents," said SU President Janet Dudley-Eshbach. "He has already achieved national and regional acclaim, bringing positive attention and recognition to Salisbury University and the University System of Maryland."
In January, he was one of only three educators nationwide to receive the Mathematical Association of America's prestigious Deborah and Franklin Tepper Haimo Award for Distinguished College or University Teaching of Mathematics. In 2007, he received the MAA's regional teaching award and two SU appreciation awards.
Bardzell is known for engaging students with lighthearted humor coupled with in-depth exploration of research topics. SU alumni have high praise for their former professor and mentor. Colleagues have said they are inspired by his teaching.
"He has a quick wit, which keeps his classes entertaining," said Jathan Austin, now a graduate student at the University of Delaware who attributes his success to Bardzell. "I wish I could have taken more classes from him, but of course, he cannot teach everything."
Nicole Juersivich said Bardzell goes "above and beyond" to introduce students to new dimensions of mathematics and provide them opportunities to conduct research. Another former student, Randy Cone, said "he has a quite infections nature regarding mathematics that is apparent in his lecturing style and his enthusiasm for working outside the standard classroom setting."
During his 12 years at SU, Bardzell has taught some 25 graduate and undergraduate courses. He strongly encourages undergraduate research, assisting students in exploring subjects from physics and engineering to pure mathematics and group theory. Almost every year, his students present at the National Conference on Undergraduate Research (NCUR).
"Bardzell excels in all areas of faculty responsibility but his finest accomplishments are in teaching," said Dr. Kathleen Shannon, chair of the department. "His casual and informal style within the classroom creates an effective learning atmosphere, which has led to greater numbers of majors participating in undergraduate research and discipline-related extra-curricular activities and to greater numbers of our alumni in graduate programs."
In collaboration with colleagues, Bardzell successfully obtained two National Science Foundation grants for curriculum development and support of undergraduate research. A recipient of SU's Distinguished Faculty Award in 2001, he has played an integral role in the establishment of the Undergraduate Research Conference on campus.
Outside the classroom, Bardzell was a longtime advisor to SU's Math Club and helped students establish a chapter of Pi Mu Epsilon, the national mathematics honor society. Locally, he helped develop summer geometry courses, a Real World Mathematics professional development program and an algebra workshop for middle school teachers. He also serves on the MAA's Classroom Resource Materials Editorial Board.
Bardzell earned his Ph.D. in Mathematics from Virginia Tech in 1996. For more information call 410-543-6030 or visit the SU Web site at www.salisbury.edu.