Friday, March 27, 2009
SU Earns Prestigious NAPDS 'Spirit of Partnership' Award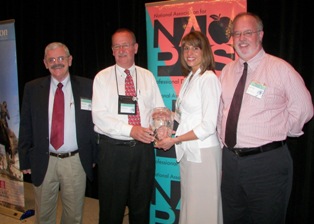 From left: Dr. Dennis Pataniczek, dean of the Seidel School; Dr. Bruce Field, NAPDS conference chair; Stacie Siers, SU PDS coordinator; and Dr. Keith Conners, faculty in SU's Teacher Education Department.

SALISBURY, MD---When representatives of Salisbury University recently returned from the National Association of Professional Development Schools' annual conference in Daytona Beach, FL, they didn't realize they were going to need a little extra room in their suitcases.

The SU delegation brought back with it the fourth annual Spirit of Partnership Award, presented to honor contributions made to the conference by individual institutions. According to the University of South Carolina's Bruce Field, conference chair, SU "helped the conference team re-conceptualize some of the sessions that are offered" to focus on "real-world, hands-on classroom suggestions and activities" and "best practices."

"We're happy that we have been able to have an impact not only in local school systems, but on those who attend the conference and are able to take ideas back with them to share with their own school systems," said Stacie Siers, SU professional development schools (PDS) coordinator.

"We were honored to receive the Spirit of Partnership Award," said Dr. Dennis Pataniczek, dean of SU's Marilyn C. Seidel School of Education and Professional Studies. "Numerous faculty and local teachers and our own interns have been involved in the conference over the years, but I want to recognize Dr. Keith Conners [of the Teacher Education Department] and Stacie Siers, who have really brought our work public."

NAPDS is the only nationwide association focused exclusively on the work of professional development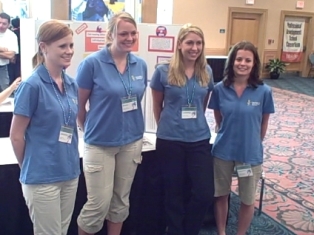 From left: SU interns Jennifer Ruark, Staci Stonnell, Corinne Ponder and Cassandra Graves

schools.

In addition to representatives from the Seidel School, Clara Outten, an SU adjunct faculty member and mentor teacher from Snow Hill Elementary School, joined some 850 others at the conference, representing 148 institutions and some 203 school systems nationwide.

Four SU students—Staci Stonnell, Jennifer Ruark and Cassandra Graves of Salisbury, and Corinne Ponder of Laurel, MD—also attended, giving three presentations showing the impact of SU's PDS program on pre-kindergarten through 12th grade reading scores at one school.

For more information call 410-543-6030 or visit the SU Web site at www.salisbury.edu.