Thursday, February 5, 2009
Delegate Addie Eckardt Honored with SU's Hargreaves Award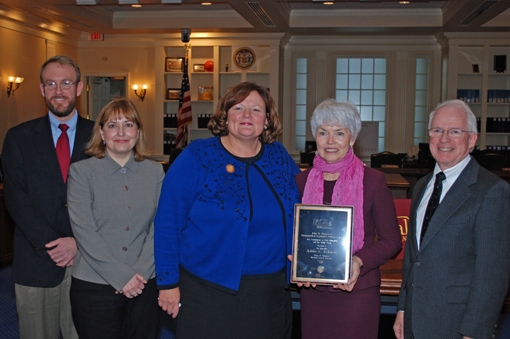 Pictured (L-R) are Dr. Creston Long, co-director of PACE; Ginie Lynch, managing director of PACE; Dr. Janet Dudley-Eshbach, SU President; Delegate Addie Eckardt, Hargreaves Award recipient; and Dr. Francis Kane, co-director of PACE.
SALISBURY, MD---Salisbury University named Maryland Delegate Adelaide C. "Addie" Eckardt its 2009 John R. Hargreaves Distinguished Legislative Fellow during a ceremony at the Lowe House Office Building in Annapolis.
The award, designed to recognize outstanding legislators for effective and honorable public service, was presented by SU President Janet Dudley-Eshbach.
"Delegate Addie Eckardt's leadership and strong commitment to public service represent the kind of public commitment we want from our Salisbury University students. Delegate Eckardt is an effective legislator, a passionate advocate for the citizens of Maryland, particularly in health care matters, and a strong supporter of our efforts to promote civic education," said Dudley-Eshbach.
Eckardt is the eighth recipient of the Hargreaves Fellowship. Past recipients have included House Speaker Michael Busch; Senate President Thomas V. "Mike" Miller, senators J. Lowell Stoltzfus and Brian Frosh; and delegates Sheila Hixson, Norman Conway and the late Howard "Pete" Rawlings.
Eckardt serves Caroline, Dorchester, Talbot and Wicomico counties in District 37B. One of her most notable accomplishments has been her work to improve health care. She co-sponsored a bill that established the Nurse Support Program Assistance Fund, requiring funding for competitive and statewide grants to increase the number of bedside nurses in Maryland hospitals, and to attract and retain minorities in nursing. She has also taught nursing to SU students.
"Of particular interest to our students, especially those seeking careers in health care, is that Delegate Eckardt has been at the forefront of combating the nursing shortage in the State of Maryland," said Dr. Francis Kane, co-director of SU's Institute for Public Affairs and Civic Engagement (PACE). "Her nursing expertise brings a wealth of knowledge to important health care issues facing our state."
She also has been a supporter of the agricultural industry and a leader in job creation on the Eastern Shore and expanding small business opportunities. She was the original proponent in the General Assembly of bringing broadband Internet to the Shore.
A House member since 1995, Eckardt serves on many committees including the powerful House Appropriations Committee, the Joint Committee on Health Care Delivery and Financing, and the Joint Committee on Access to Mental Health Services.
Sponsored by PACE, the Hargreaves Fellowship not only salutes public servants, but also allows SU students to meet with outstanding state legislators so they can learn about the responsibilities and rewards of public service.
Funding for the award was made possible by contributions to Salisbury University in memory of the late John R. Hargreaves, a former member of the Maryland General Assembly from Caroline County. As part of the fellowship program, Eckardt will meet with a group of PACE students later in the legislative session and visit the SU campus to speak to students and community members.
Also honored during the Hargreaves ceremony were six General Assembly interns from SU who are the first recipients of the Henry H. "Buddy" Hanna Memorial Award, a scholarship established in 2007 in memory of Hanna, who served three terms in the House of Delegates.
For more information call 410-543-6030 or visit the SU Web site at www.salisbury.edu.