Wednesday, September 24, 2008
Kim, Morrison Earn 2008 Distinguished Faculty Awards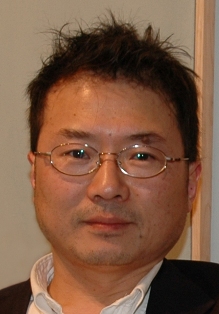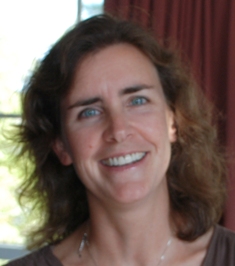 SALISBURY, MD---One of the Delmarva Peninsula's favorite artists and a professor known for expanding her students' knowledge of literature through hands-on dancing and cooking activities are this year's Salisbury University Distinguished Faculty Award winners.
The 2008 honorees are Jinchul Kim of the Art Department and Dr. Lucy Morrison of the English Department and Bellavance Honors Program.
Kim, a recipient of the 2008 University System of Maryland Regents Award for Excellence, the highest faculty honor bestowed by the USM, came to SU in 1996. He has since built a reputation for himself and for the Art Department on the Eastern Shore and beyond. His works have appeared in exhibitions throughout the world, including his native South Korea, and he recently was named The Daily Times' "Favorite Delmarva Artist."
"Jinchul Kim is a master teacher and painter who inspires his students and impresses his peers. His paintings are in touch with contemporary issues, his demeanor is modest and his skill of his teaching can be seen in the quality of his students' accomplishments," said Dr. Jim Hill, Art Department chair. "The Art Department and Fulton School of Liberal Arts are extremely fortunate to have such an acclaimed artist as Jinchul Kim teaching painting and drawing at our institution."
Gregory Amenoff, a senior painting instructor at Columbia University in New York, commented that Kim's undergraduate students were producing paintings equal to the quality of the work done by graduate students. Kim became a full-time lecturer in drawing and painting in 2001. At that time, the number of students in the painting track had dwindled. Today, painting and advanced drawing classes are packed, thanks in part to the popularity of Kim's courses.
"I found his Web site through the University, saw his artwork, read his artist statement and teaching philosophy, and I was sold on transferring to SU where I had him as my advanced painting instructor," said SU alumna Jessica Cross Davis, one of several of Kim's students accepted into master's programs in painting in the past three years. "Professor Kim helped me develop my own painting ability, get into a top graduate school and become a college professor, all by the age of 25."
In addition to teaching in the classroom, Kim has served SU by curating a number of student art shows, overseeing several campus art projects and sitting on several committees, including the Fulton Faculty Grants Committee. Off campus he has been named Artist of the Year by the Art Journal in Seoul, Korea, and received the Phyllis H. Mason Grant from the Art Students League of New York. He also has received an Individual Visual Artist Award from the Maryland State Art Council and a Visual Artist Grant from the George Sugarman Foundation. He earned his M.F.A. from the School of Visual Arts in New York City.
From the classic novels of Mary Shelley to the poetry of John Keats, Morrison has written and taught about many literary figures by going outside the traditional bounds of academia. While teaching the works of Jane Austen, for example, she not only had students read the 19th century author's books, but introduced them to the world of 19th century dance, which is so pronounced in those pieces. She also led them in cooking from 19th century recipes. Learning the social norms and culinary customs of the era allowed students to better understand the material.
"Lucy's teaching is, at the very least, equally impressive to her scholarship and service," said Dr. Elizabeth Curtin, English Department chair. "She is immensely popular although she always sets the bar high. Over the past five years, she has conducted three tremendously successful graduate seminars and has been particularly helpful in bringing new life to our upper level program, even while for the last two years also teaching in the Honors Program. Lucy's record is distinguished in all areas and makes her truly deserving of our most prestigious award."
The recipient of SU's Outstanding Research Mentor and Student Government Faculty Appreciation awards in 2007, Morrison has been a strong proponent of undergraduate research both in the English Department and in the Honors Program. She assisted with the 22nd National Conference on Undergraduate Research at SU and has encouraged many students to present their research at this and other national and regional conferences. She also has brought new speakers to campus by continuing the Honors Program's monthly Mind Shrapnel 'n' Cookies lecture series. Last semester she led students in a British literature study abroad trip to England, SU's first course with a Spring Break experiential learning component.
"Dr. Morrison uses a student-centered approach," said former student Rachel Geiger. "She designs questions that lead students to discover key concepts through their own close readings. I find nothing more intellectually satisfying than participating in a well-structured discussion with my peers and colleagues. Dr. Morrison orchestrates such environments gracefully."
Morrison has been involved in many aspects of SU, serving on the Fulton School Dean's Advisory Committee, as a four-time mediator for the SU Undergraduate Research Conference, and as chair of the SU's Admissions/Readmissions Senate Committee, among many others. She also has chaired the Fulton Faculty Grants Committee.
Off campus, Morrison has served as director of the 19th Century Studies Association's international conference and been elected to the association's board of directors and volunteered at Fruitland Elementary School. She also has been elected as a faculty representative to the Northeast Region Honors Council. With Staci L. Stone, she is co-editor of the book A Mary Shelley Encyclopedia. She earned her Ph.D. from the University of South Carolina. She also has published scholarly articles in several peer-reviewed journals.
"The number and quality of Dr. Morrison's publications are exceptional, and she has become an extremely active member of our profession on both national and international levels," said Dr. Arnold Markley, associate professor of English at Penn State University, Brandywine. "Indeed her accomplishments are comparable to those of a scholar much further along in her career."
For more information call 410-543-6030 or visit the SU Web site at www.salisbury.edu.