Friday, September 19, 2008
'Points of Juxtaposition' Exhibit at SU October 7-November 2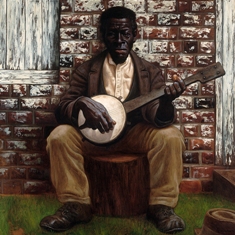 SALISBURY, MD---NAACP Image Award winner Kadir Nelson joins seven local African-American artists to present the exhibit "Points of Juxtaposition" October 7-November 2 in the University Gallery of Fulton Hall at Salisbury University. A reception is 6-8 p.m. Saturday, October 11.
Nelson has been commissioned by publishers and companies including Dreamworks, Sports Illustrated, Coca-Cola, The New York Times and Major League Baseball. He has collaborated with authors including entertainment leaders Spike Lee and Will Smith in his to create a series of picture books on the African-American experience. He has illustrated 20 books in all, earning a Caldecott Honor and a Coretta Scott King Illustrator Award.
Other artists featured in the exhibit include Tony Burton, Seldon Dix Jr., Alex Gamble, Patrick Henry, Michael Morris, Ernie Satchell and Carl Williams.
A long time resident of Kent County, DE, Burton has been an artist and educator since 1875. Specializing in cartooning and caricatures, he studied art education at Delaware State University and computer-aided graphic design at the Delaware College of Art. He currently teaches art at Woodbridge High School.
The former assistant art director of ABC Television's promotions department, Dix retired in 1990 as the executive art director of Time Inc.'s (now Time Warner's) promotional art department. Studying graphic design at the Pratt Institute in Brooklyn, NY, his work has been exhibited at the Louisiana Arts and Science Center in Baton Rouge, Hofstra University in Hempstead, NY, and the Dancing Goat Gallery in South Orange, NJ, among other venues.
Relocating during his youth from Brooklyn to Wilmington, DE, Gamble became interested in the mechanisms that make things work. Following his father's death, he also became interested in existentialism. Both influence his art today. Pieces in the exhibit include those created before and after his newfound commitment to Christianity in 2003.
A native of Sinepuxent, MD, in Worcester County, Henry's works represent the Eastern Shore's landscapes and heritage. Using color, texture and contrast, the Berlin resident captures the light and color of Shore scenes.
Under the name "Mijomar," Morris has worked in media ranging from pencil to serigraph, though he enjoys oil painting most. His subjects include people in day-to-day situations, poetry-painting combinations, landscapes and Afristracts (collaged images of Africa). An artist and educator since 1975, his works have been displayed at the Eubie Blake Cultural Center in Baltimore, the Black Culture Museum in Wilmington and the Afro-American Historical Society of Delaware.
A native of Eastern Shore Virginia, Satchell taught himself how to draw by studying comic books and learned to carve by watching his carpenter father. The chair the art department at the University of Maryland Eastern Shore, where he earned his undergraduate degree in art, Satchell has exhibited extensively in both solo and invitational shows and is known for his extensive work in the development of large pottery-throwing techniques. He earned his M.F.A. from Towson University in 1988.
A Wilmington resident, Williams has been an artist and educator since 1975. His work is comprised mostly of graphic collage and semi-abstract lines and shapes. Working on hot and cold press watercolor paper with acrylics, inks and—more unusually—hornets' nests, his pieces represent a multitude of characters from women with bad hair days to clowns with melancholy expressions.
Sponsored by University Galleries, the exhibit is free and the public is invited. Gallery hours are 10 a.m.-4 p.m. Tuesday-Friday, noon-4 p.m. Saturday and Sunday, closed Mondays and holidays. For more information call 410-548-2547 or visit the SU Web site at www.salisbury.edu.