Friday, September 5, 2008
MRSA Research by SU Alum Wins First Place from ASCLS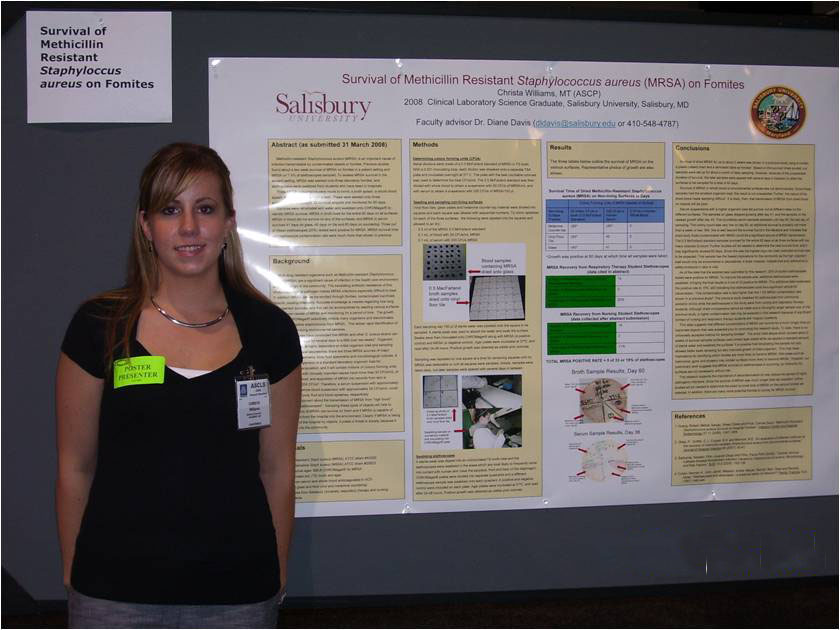 SALISBURY, MD---The spread of drug-resistant MRSA has been a growing concern for hospitals and schools in recent years because it is highly contagious and difficult to treat. As scientists worldwide work to find ways to control the infection, one Salisbury University alumna has conducted her own research about the spread of MRSA on inanimate objects.
In July, Christa Williams ('08) presented her study "Survival of Methicillin Resistant Staphylococcus Aureus on Fomites" at the American Society of Clinical Laboratory Science's national meeting in Washington, D.C. She won first place in the student poster contest, a $500 award, and a one-year professional membership in ASCLS.
Using a wet sampling method, Williams' study found some concentrations of MRSA can survive for at least 60 days on inanimate objects. It was much longer than expected, based on studies that used dry sampling, and may have implications on what objects spread MRSA. While wet areas such as bathrooms, gyms and showers contain surfaces that may be more likely to transmit MRSA, its survival was also shown on dry surfaces like stethoscopes.
According to the Journal of the American Medical Association, MRSA infects some 94,000 people and is associated with approximately 19,000 deaths annually.
A native of Ellicott City, MD, Williams is a cum laude graduate of Salisbury University's Clinical Laboratory Science/Medical Technology program. This summer, she earned national certification from the American Society of Clinical Pathology. Her research has been submitted for consideration for publication in the Clinical Laboratory Science journal.
"I knew how hard Christa worked on this project and what good work she did, but the external validation from ASCLS is really a feather in her cap," said her faculty advisor, Dr. Diane Davis of SU's Clinical Laboratory Science/Medical Technology Department. "This is the first time in the history of the CLS program that a student has submitted research of this nature at the national level, and a first place win is certainly a proud moment for Salisbury University as well."
For more information call 410-543-6030 or visit the SU Web site at www.salisbury.edu.