Friday, August 29, 2008
'Learn with SU' Fall Classes Begin September 8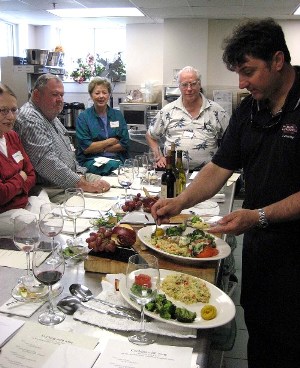 SALISBURY, MD---From an interactive book club to a day trip to Virginia's Barrier Islands, the latest installment of Salisbury University's popular "Learn with SU" series features something for everyone this fall.
Delmarva residents age 50 and over are invited to take part in this lifelong learning series. Courses are held on campus and in the Maryland and Delaware beach communities.
"We are thrilled to offer nine classes on a wide-range of topics," said coordinator Amy Waters, SU's director of leadership giving and stewardship. "Some are brand new and others are variations of past favorites. The faculty, staff, alumni and community members who are teaching look forward to seeing returning participants, as well as some new faces."
The series kicks off Monday, September 8, with a lecture on beer history and samples of the best summer beers. Later in the month, the Good Earth Market and Organic Farm in Clarkesville, DE, offers tips for cultivating bulbs in containers. Another highlight is a day trip to Virginia's Eastern Shore featuring tours of the Barrier Island Center and other historic buildings, and lunch at the Eastville Inn.
Two health and fitness programs are on the agenda for October and November: low-impact walking and low-resistance exercise bands. A more sedentary option is the book club, featuring a visit by local author Christina Weaver and discussions about her book What You Lose on the Roundabout, You Gain on the Swings.
Other classes include a workshop on genealogy and family history with Dr. Ray Thompson, co-founder of the Edward H. Nabb Research Center for Delmarva History and Culture at SU, and cooking traditional meals with new twists with SU alumnus Pete Roskovich, owner of Black Diamond Lodge.
The series wraps up Thursday, November 20, with Theresa Pyle of Blossoms Inc., who helps participants make beautiful holiday centerpieces with bows, candles, pinecones and greens.
"Learn with SU" participants are also invited to take part in SU's Humanities Seminar Series, sponsored by the Charles R. and Martha N. Fulton School of Liberal Arts and the Whaley Family Foundation. Held on Saturdays, upcoming seminars include "Election 2008: Is This Any Way to Choose a President" with Dr. Harry Basehart on September 27; "Nature Love and Loathing in America" with Dr. Michael Lewis on November 8; and "Literature Magic: The Seven Harry Potter Novels" with Dr. John Wenke on January 24.
Admission varies. For more information about registration, a full class schedule, or an annual membership, contact Waters at 410-677-5416 or ahwaters@salisbury.edu, or visit the "Learn with SU" Web site at www.salisbury.edu/lifelonglearning.