Tuesday, May 13, 2008
Nathan Foundation Surpasses $1 Million in SU Scholarships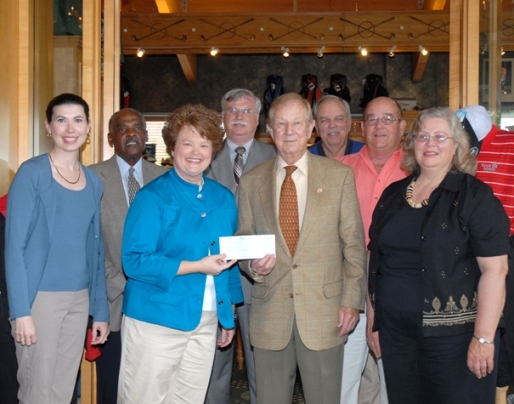 Members of the Nathan Foundation present this year's gift to Dr. Rosemary Thomas (center), vice president of University Advancement and executive director of the SU Foundation, and Kim Nechay (left), director of development for University Advancement and assistant director of the SU Foundation.
SALISBURY, MD---With this year's annual gift of $40,000, the Nathan Foundation has exceeded one million dollars in scholarships for Salisbury University students who are from Dorchester County.
For 46 years, the Nathan Foundation has invested in SU students, providing financial assistance to more than 100. Scholarship amounts have increased over the years and since 1985 it has annually funded five $8,000 scholarships. The SU Foundation is the Nathan Foundation's largest beneficiary.
"We are fortunate that the Nathan Foundation has given so selflessly to allow Dorchester residents to earn their degrees at SU," said Kim Nechay, director of development for University Advancement and assistant director of the SU Foundation. "We applaud them for continuing this tradition for more than four decades and for their support of the quality education Salisbury provides."
"The Nathan Foundation continues to recognize Salisbury University as one of the top educational values in the state and is proud to continue its scholarship relationship with the University," said Russell Baker of the Nathan Foundation.
The foundation is the legacy of the Nathan family, whose patriarch, Meyer Nathan, moved to Dorchester County circa 1870. After working as a peddler, he opened the first Nathan Furniture Store on High Street in Cambridge in 1881. Following his death in 1911, his son, Milford, took over the business, franchising eight stores on the Delmarva Peninsula.
Known for his business acumen, Milford Nathan also was a civic leader. For many years, he was chairman of the board for the Cambridge Hospital, an active Mason and chairman of the board for the Farmers and Merchants National Bank. Upon his death in 1953, his will established the terms for the creation of the Nathan Foundation as a charitable organization, his final act of community goodwill.
The foundation was enacted in 1960 following the death of Milford's wife, Estelle, who left the bulk of her estate to the foundation. The first donations from the Nathan Foundation were made in 1961. The Nathans' tradition of giving was reaffirmed in 1983 when Milford's sister, Bertha, left most of her estate to the foundation, as well.
The Nathan Foundation is a member of SU's Seagull Society, which honors those who have given $100,000 or more to the University. In addition to SU, the foundation supports institutions throughout Dorchester County. Annually, one-third of the foundation's contributions go to programs for Dorchester's less fortunate population, one-third toward education and one-third toward programs to benefit the overall community. Since 1961, its charitable gifts have totaled more than $3.5 million.
For more information call 410-543-6030 or visit the SU Web site at www.salisbury.edu.