Wednesday, May 7, 2008
SU Relay Tops $93K, Fundraising Continues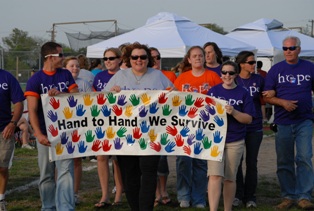 SALISBURY, MD---Salisbury University's top-ranked Relay For Life has raised more than $93,000 for the American Cancer Society (ACS) so far this year – and fundraising efforts continue.
Some 107 teams comprised of 950 SU students, faculty and staff, along with families and community groups, participated in the annual Relay, which was held May 2-3 at SU's Intramural Fields. Opening ceremonies were immediately followed by a survivors' lap lead by SU President Janet Dudley-Eshbach and Relay co-chairs Justin McJilton and Maria Jensen.
For the past four years, Salisbury University's Relay For Life has been named one of the top collegiate Relays in the nation. All proceeds benefit cancer research, education, patient services and advocacy programs.
This year, SU was named one of only 20 "Leaders of Hope" by Colleges Against Cancer, an American Cancer Society program that unites college students, faculty and staff from more than 300 campuses in the fight against cancer. SU also was named Colleges Against Cancer's "Rookie of the Year" Relay chapter. In all, the University has raised more than $400,000 for cancer research in the past six years.
The American Cancer Society is a nationwide community-based organization dedicated to eliminating cancer through efforts such as Relay For Life, which in the past 20 years has spread to more than 4,500 U.S. communities and 12 foreign countries.
To make a donation, click here.