Monday, April 14, 2008
Three From SU Earn Prestigious USM Regents Faculty Awards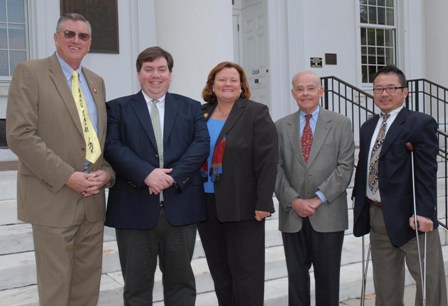 Salisbury University President Janet Dudley-Eshbach and Provost Tom Jones congratulated the three SU faculty who this year earned the University System of Maryland's highest faculty honor: the Regents Awards for Excellence. Winners were Dr. Robert Dombrowski of the Accounting and Legal Studies Department for mentoring, Jinchul Kim of the Art Department for teaching and Dr. Michael Scott of the Geography and Geosciences Department for public service. Pictured, from left, are Jones, Scott, Dudley-Eshbach, Dombrowski and Kim.
SALISBURY, MD---Three Salisbury University professors have received the highest faculty honor given by the University System of Maryland: the Regents Award for Excellence.
The Regents recognized Dr. Robert Dombrowski of the Accounting and Legal Studies Department for excellence in mentoring, Jinchul Kim of the Art Department for excellence in teaching and Dr. Michael Scott of the Geography and Geosciences Department for excellence in public service.
"The recognition of these three Salisbury University faculty affirms what our campus community already knows – that they are excellent educators," said SU Provost Thomas Jones. "Our students benefit greatly from the expertise of these professors and their enthusiasm for teaching and learning."
The following are highlights about each honoree:
Dombrowski has helped SU students gain real-world auditing experience by creating and overseeing the Community Service Financial Consulting Project. The initiative also aids the local community, placing accounting students with non-profit organizations. This allows these groups to receive low-cost financial services they may not otherwise be able to afford.
"Dr. Dombrowski has been instrumental in giving students valuable experience in which to practice their newly acquired accounting skills … and in guiding students through these learning experiences to achieve maximum benefit and understanding of their chosen field of study. I myself had the opportunity to sit in on Professor Dombrowski's class, and greatly appreciate the ways in which he makes the material accessible to his students. He is a remarkable teacher and mentor." said SU President Janet Dudley-Eshbach.
Clients have included Habitat for Humanity, Salisbury Christian School, Back-on-Track Substance Abuse, many local churches and Maryland County Agricultural Extension advisory councils throughout the state.
"Dr. Dombrowski spends an untold number of hours outside of class mentoring the students in this process, serving as liaison with the clients and doing write-up work," said Ken Smith, department chair. "His time and dedication to this program is evidenced by the gratitude of the clients and the differential preparedness of our accounting graduates for positions upon graduation."
Dombrowski came to SU in 1989, chairing the Accounting and Legal Studies Department from 1992-2004. In just under two decades, he has influenced hundreds of students at SU.
"Dr. Dombrowski taught us how to present our work with the highest integrity by making sure all details had been covered," said SU graduate Amanda Lentsch, now a financial analyst at Northrop Grumman Corp. "He did not only oversee the projects as a professor, but he acted as a mentor to the students."
* * *
Kim, an award-winning artist featured in exhibits throughout the United States as well as his home country of South Korea, came to SU in 1996 and has seen the Art Department grow exponentially since. In 1999, the University had only two students majoring in art with an emphasis on painting and drawing—Kim's specialties. By 2007, that number had grown to 15.
"Mr. Kim's faculty colleagues and I marvel at his impact on the Art Department and its students and speak with awe of his accomplishments in the professional art world," said Dudley-Eshbach. "Students of Jinchul Kim have earned acceptance in the nation's top painting and drawing graduate programs such as the Pratt Institute in New York and the Pennsylvania Academy of Fine Arts and have exhibited their works of art in galleries across the country, winning top prizes in national and international juried shows."
In addition, Kim works to build broader interest in the arts and art education through innovative efforts such as his "open studio day," during which those interested throughout campus may view works in progress by students in every discipline. He also coordinate's SU's annual senior art shows, a tradition for more than three decades.
"The Art Department and Fulton School of Liberal Arts at Salisbury University is extremely fortunate to have such an acclaimed artist as Jinchul Kim teaching painting and drawing at our institution," said Dr. James Hill, Art Department chair. "He is a great teacher and a dedicated artist."
Kim's work has not only influenced students enrolled at SU, but drawn some of them to Salisbury, as well.
"I found his Web site through the University, saw his artwork, read his artist statement and teaching philosophy, and I was sold on transferring to SU where I had him as my advanced painting instructor," said SU alumna Jessica Cross Davis. "Professor Kim helped me develop my own painting ability, get into a top graduate school and become a college professor, all by the age of 25."
* * *
Through the Eastern Shore Regional Geographic Information System Cooperative (ESRGC), Scott has determined everything from a previously unknown route taken by Capt. John Smith during his 17th century explorations of the Chesapeake Bay to the locations of septic systems—and their potential environmental impact—throughout Maryland.
A founder of the ESRGC in 2004, Scott was eager to prove that geographic scientists and governments could work together for the good of municipalities, counties and even states. In 2007, he took this idea to the next level, founding the nation's first Master of Science in Geographic Information Systems and Public Administration.
"Dr. Scott's efforts … have brought new light to the history of the Eastern Shore and that of its towns and communities while solidifying the University's outreach and benefit to these areas," said Dudley-Eshbach. "The ESRGC initiative has also raised more than $700,000 in revenue, while serving as an important learning tool for students of Salisbury University. Dr. Scott maintains the highest of academic standards while bringing his expertise to bear in "real world" situations. His contributions on- and off-campus are exceptional."
Scott serves on numerous GIS committees and professional associations throughout the state. In 2007, he received the Award for Outstanding Contribution to GIS in Maryland, presented by the Towson University GIS Conference.
"While Dr. Scott is an absolutely outstanding teacher, scholar and mentor, his contributions in public service have been especially noteworthy," said Dr. Brent Skeeter, Geography and Geosciences Department chair. "He is a great asset to our department, the University and the community."
Along with his work in advancing local GIS techniques, Scott is deeply involved in preserving the history of Wicomico County. He co-chairs the Pemberton Hall Foundation's capital campaign, serving as treasurer of the organization since 2003. He also has chaired the foundation's annual Pemberton Colonial Fair.
Additionally, he is a member of the Double Mills, Inc. Advisory Board, Westside Historical Society and Edward H. Nabb Research Center for Delmarva History and Culture Advisory Board. Most recently he helped found PAC 14's Digitizing Delmarva Heritage and Tradition Program, through which interviews and mini-documentaries are recorded digitally in an effort to preserve local history.
"Having known Mike for many years, I have seen him develop both as a first-rate scholar and as a very 'community activist' individual," said Dr. Ray Thompson, interim director of the Nabb Research Center and Scott's former professor. "There is no doubt that Mike Scott represents the best that Maryland has to offer."
For more information call 410-543-6030 or visit the SU Web site at www.salisbury.edu.