Tuesday, January 15, 2008
SU Theatre Presents 'Alice in Wonderland' January 25-February 3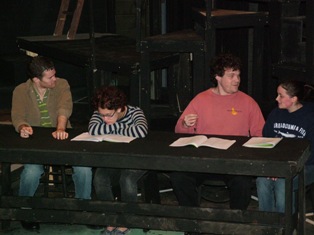 Alice visits the Mad Hatter's tea party in this rehearsal scene. From left: Brian J. Hoyle as the Mad Hatter, Chelsea Reid as the Dormouse, Zachary Coffman as the March Hare and Jen Webster as Alice.

SALISBURY, MD---Salisbury University's Bobbi Biron Theatre Program is about to get "curiouser and curiouser."

From the Cheshire Cat to the Queen of Hearts, some of the world's best-loved literary characters come to life during the Theatre Program's annual children's performance, Alice in Wonderland. It's held Friday-Sunday, January 25-27 and February 1-3, in the Black Box Theatre of Fulton Hall. Curtain is 7 p.m. for Friday shows, 1 and 3 p.m. for Saturday and Sunday shows.

The script is an original adaptation of Lewis Carroll's classic novels Alice's Adventures in Wonderland and Through the Looking Glass, written by students in director Andrew Heller's script writing class.

"We used scenes from both books," said Heller. "It's won't be exactly like the Disney version." However, it will feature characters with which many young children are familiar. In fact, some of them will get to know characters like the Mad Hatter and Queen of Hearts very well while designing props for the show.

Local elementary school students from Maryland and Virginia are designing some of the production's larger set pieces, including the Mad Hatter's large tablecloth and Queen of Hearts' playing cards. The area students will then get to see their props in action during a week-long series of school-only performances, followed by a brown bag lunch question-and-answer session with the cast and crew.

In addition to their own props, the young students will witness elements of Japanese Bunraku puppetry in the show, similar to that used in Broadway productions such as The Lion King. The large puppets are used to represent several of Wonderland's more unwieldy characters, as well as special effects scenes during which Alice grows and shrinks while eating and drinking magic concoctions.

The cast consists of both SU students and alumni, including Allison Tunnell, Stephen Bradford, Brandon Lane, Kara Doarnberger, Sarah O'Connor, Roland Lane, Rachel Barrett, Griffin Jones, Hank Brannock, Jenn Ruggeri, Megan Murray, Jen Webster, Jen Pawenski, Chelsea Reid, Julia Amorati, Brian Hoyle, Kate Grimes, Lars Ryan, Shanice Love Jones, Sandy Ulrich, Camilla Morrision, Brandon Roe and Demiah Carpenter.

The crew includes properties designer Derek Lingle, set designer Heather Hall, sound designer Brandon Roe, costume designer Camilla Morrison, lighting designer Justin Serenji, faculty costume advisor John James Ruteullo, technical director Tim Temby and faculty technical advisor Tom Anderson.

Admission to the public performances is $5 per person. SU ID holders receive one ticket free. Tickets are available at the door. For more information call 410-543-6229 or visit the SU Web site at www.salisbury.edu.