Friday, November 2, 2007
SU Submissions Sought for NCUR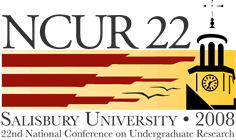 SALISBURY, MD---Some 2,500 of the nation's top undergraduate scholars come to Salisbury University for the 22nd National Conference on Undergraduate Research (NCUR) Thursday-Saturday, April 10-12.
The big question: How many of them will be SU students?
SU is accepting student abstract submissions for the conference through Saturday, December 1. Each abstract should be 250-300 words long and include the title, discipline, advisor's name and student's name. Research does not have to be completed at the time the abstract is submitted.
NCUR is the largest professional organization in the country devoted to undergraduate research. Students from all 50 states representing 300-400 colleges and universities are expected to present in 56 different disciplines. Registration expenses will be paid for SU students whose abstracts are accepted. Those accepted will be notified on January 25.
Conference officials are also seeking volunteers to assist during the event. Volunteers will receive free T-shirts.
SU is the only university in Maryland to host NCUR and the first comprehensive university in the United States to host two NCUR conferences (the first was in 1998).
Dr. Ronald Dotterer, professor of English, serves as conference host. Dr. Creston Long, assistant professor of history, chairs the program. Carolyn Collins is conference coordinator.
For applications visit www.salisbury.edu/ncur22. For more information call 1-866-812-4277 e-mail ncur22@salisbury.edu.