Wednesday, October 3, 2007
Air Force Soldier Creates 'Sea Gull Century East' in Baghdad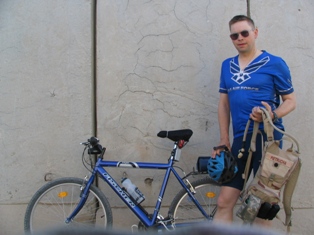 U.S.A.F. Lt. Col. Mike "Starbaby" Pietrucha began his ride in front of the blast shield at his quarters at the Victory Base Camp in Baghdad.
SALISBURY, MD---The 6,000 riders expected to attend Salisbury University's 19th annual Sea Gull Century bike ride on Saturday, October 6, won't need to worry about bombs, snipers or 120-degree temperatures. However, U.S. Air Force Lt. Col. Mike "Starbaby" Pietrucha will.
A rider in the 2006 Sea Gull Century, Pietrucha is stationed in Iraq and will be unable to attend this year's event. However, that did not stop him from this annual ride. Recently, in honor of the Sea Gull, he pedaled 52.5 miles during his own half-century through the Victory Base Complex in Baghdad, an event he called "Sea Gull Century East." Pending work commitments, he will ride a second half-century on October 6 while the other Sea Gull cyclists complete their own rides on Maryland's Eastern Shore.
Instead of enjoying the view at Assateague National Seashore or enjoying pie à la mode at Adkins Mill Pond, two popular Sea Gull rest areas, he stopped at the Perfume and Al Faw palaces in the Iraqi capital.
"No ice cream for me!" he joked about missing the mill pond stop.
The ride started not on the picturesque campus of Salisbury University, but in front of the blast shield at his desert quarters. Pietrucha completed the ride not on his lightweight Cannondale, which he uses in the Sea Gull, but "a steel-frame German-designed monstrosity that vaguely resembles a mid-1980s mountain bike."
A care package from this year's Sea Gull Century committee,
The 41-mile stop, across from Saddam Hussein's former Perfume Palace.
including a coveted 2007 T-shirt, was the impetus for Pietrucha's journey. "I couldn't wear anything with 2007 on it unless I'd done the ride," he said. In gratitude, he sent SU an American flag flown from his jet, a UH-60A Blackhawk Tactical Airlift, on September 10-11.
In an area where, "as a matter of record, most everything that makes life worth living is prohibited or unnecessarily constrained," Pietrucha said bicycling was one of the few stateside pleasures he was able to enjoy while stationed overseas. Not that the recreational activity is not without its pressures.
"On September 11, an Iranian 240mm rocket hit the bike rack outside the Al Faw Palace," Pietrucha said. "I was 200 meters away and inside, but that was loud. My bike came through with minor fragment damage, but spare parts are in short supply here. Imagine the scene, as I'm talking to a young soldier who is looking at a charred pile of twisted metal that used to be his bicycle. He's looking at a wreck; I'm looking at a stash of spare parts. As politely as possible, I asked: 'So, dude. Do you mind if I take some of your spokes…?'"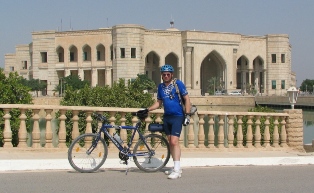 The 52.5-mile finish, in front of the Al Faw Palace.
The main difference between Sea Gull ride and his own half-century? "Some of the snack space in my trusty camelback is taken up with a sidearm and ammo."
The flag and a poster with a letter and photos from Pietrucha will be on display during this year's Sea Gull Century. The annual 100-mile or 100-killometer bike ride takes cyclists through Wicomico, Worcester and Somerset counties in Maryland.
Sea Gull Century is a "Best Bicycling in America" event that has been named among the top 10 century rides in the nation by Bicycling magazine. The Ride Magazine has called the century "one of the prettiest big rides in America." The Washington Post has named it "by far the most popular local century" in the Maryland-Delaware-Virginia region.
For more information call 410-548-2772 or visit the Century Web site at www.seagullcentury.org.